La Escocesa House / DUB Arquitectura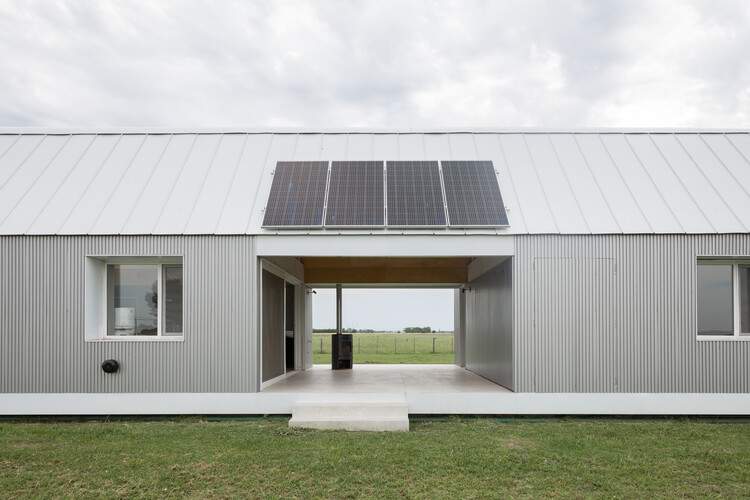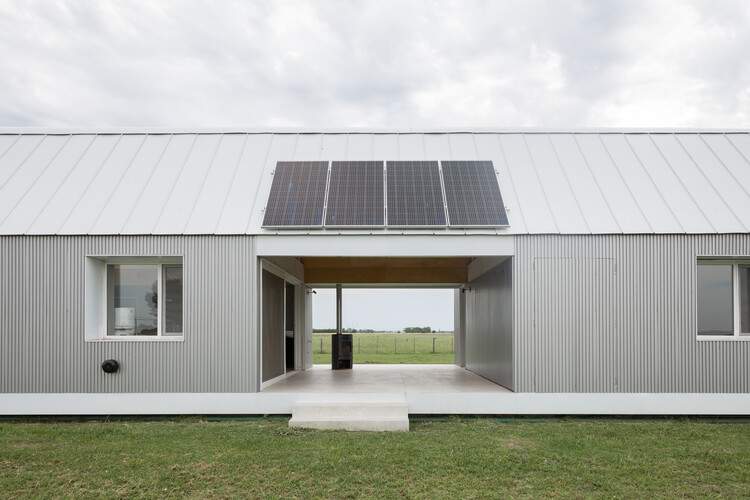 + 27



Area : 




1615 ft²



Year : 



2022






Manufacturers :  Abriga, MSH





Lead Architects :


Angie Dub, Belén Butler

Text description provided by the architects. La Escocesa is a flexible guest house, which is built to support a family home located in the flat plains of the 'Pampas' in the Province of Buenos Aires, Argentina.
This house aims to work for several different situations, so an integrated but misconfigured house is designed in 4 modules that make it up: a large kitchen/dining room; a two-bedroom module; a split-bathroom module; and a large multi-purpose space in the attic. In this way, each module is enabled separately according to use. The shaping of the house was sought to accompany the built pre-existences in the farm and that allows for growth in the future, if necessary. For this reason, a strip shape was chosen for the house with an outdoor corridor, so that it can be expanded towards the northeast façade in a flexible, disarticulated manner if more bedrooms are required, without interrupting the long views that the main house currently has.
Low or no maintenance was the main focus to choose finishing materials for the building envelope. The folded sheet is chosen for the exterior facades and interiors of bathrooms, and plywood was chosen for the interiors.
Despite being in a very hot area, La Escocesa is not connected to the grid and requires very little air conditioning throughout the year. This is because environmental design strategies were implemented. Some examples are the following: all rooms have natural cross ventilation and constant sun protection, and glass surfaces are minimized in the south and west orientations. Likewise, all rooms have natural lighting. Skylights were designed in the bathrooms and corridors to achieve a minimum consumption of artificial light.  In addition, the house is insulated by sheep's wool cloaks, adjusting its thickness according to the orientation.
The central patio is the nucleus of the union of all the parts of the house, serving as an outdoor distribution hall and a space for meeting and contemplation of the surrounding and eternal landscape.