Metals are a great material for adding the finishing touch to your personal space.
From warm gold to cool nickel, metallic details can liven up a sophisticated interior without appearing too flashy or on-trend.
Metals are a great material for adding the finishing touch to your personal space.
From shiny, warm golds and brass to faux nickel and stainless steel, metallic details can bring a sophisticated interior to life without looking expensive or unfussy.
Metal decor has a shiny facade that commands attention, which is why they are often used as accents in a space.
Moreover, metals are flexible and can be easily combined with other interior design trends. Think iron and wood for an industrial look or rose gold and white marble for a luxurious design style.
While using metallics in the home is a very common practice, some are still intimidated by the shimmering and attention-grabbing nature of metallics in furnishings and fixtures.
Fortunately, using metallics (and even mixing metallic details!) into the interior design is fairly simple and requires little effort, despite the heavy packing.
Check out these ideas that will help you understand how to implement metal and bring out the best in your space.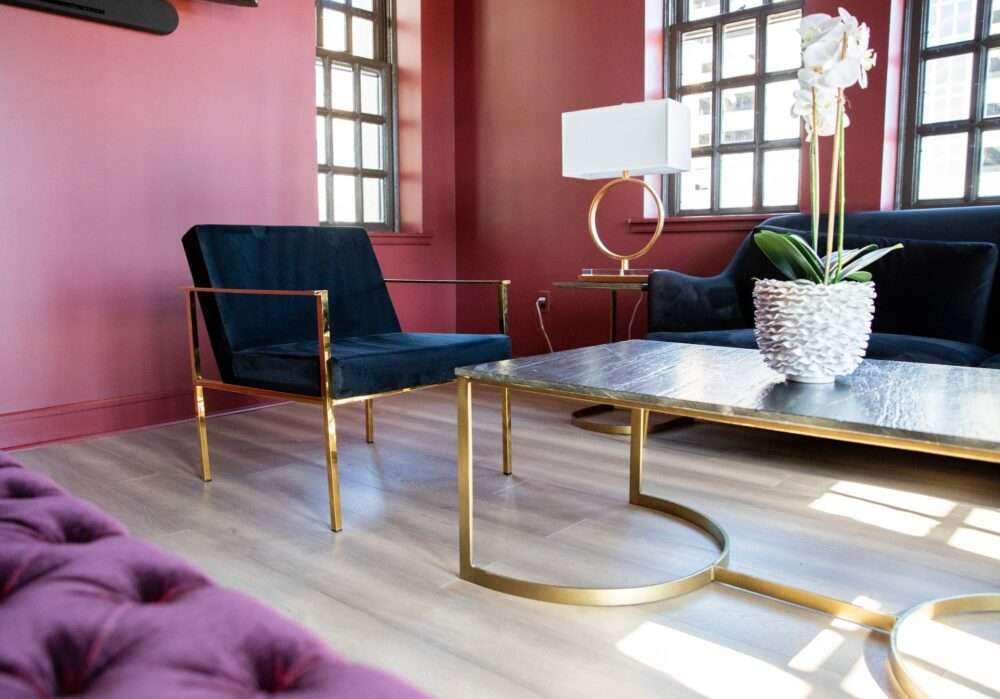 For the living room, pair metallics with jewel tones
Rich metallics are often paired with luxurious colors and materials, and the reason is straightforward: the lavish interior design style is characterized by the use of ornate furniture, high-quality pieces, and special treatments.
This design style makes the most sense in the living room or recreation area, where you receive guests and host gatherings.
And a simple living room can be easily upgraded with finely brushed metals and luminous finishes. To create warmth and a welcoming aura, consider the warmer golden tones over the blue tones of aluminum and stainless steel.
Gold is a precious metal that denotes wealth and high status. From jewelry to awards and art, this is why gold is a very popular accent among interior designers who want to style a lavish space.
Brilliant gold — yellow, rose, and even white — pairs well with gemstone colors like emeralds and sapphires.
With luxurious fabrics like velvet and high-thread-count cotton, it's high maintenance and natural materials like marble and heavy wood.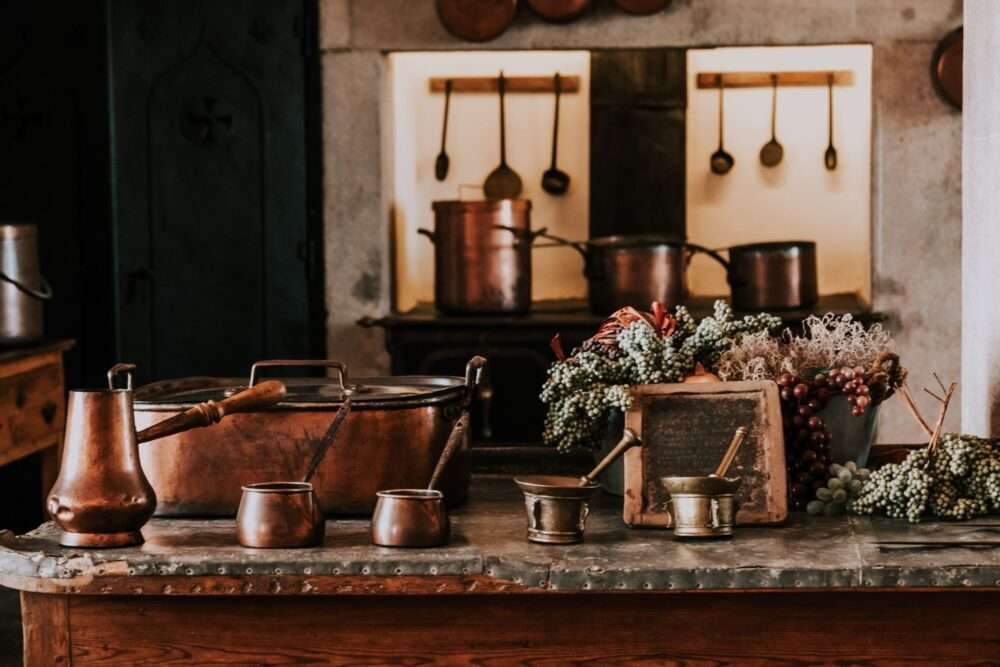 For the kitchen, metals work best for cookware and utensils
Kitchen pots and pans – and cutlery in general –
are great starting points for experimenting with metal at home. Cookware is smaller in size compared to the actual furniture,
and if you decide you hate the look of it, you can always choose to tuck it away in your kitchen cupboards.
However, choose wisely and you'll have pots and pans that do
double duty as decorative pieces when in use or hanging above the kitchen island.
A popular choice for many homeowners and designers –
Hence the most accessible in the market – Copper cookware and accessories not only conduct fantastic heat but also have the ability to keep cold food cold.
Additionally, brass as a material is fairly low maintenance and can be easily restored after showing signs of wear and minimal damage.
All that and copper is an elegant alternative or addition to regular, nonstick cast iron.
In fact, the luster of copper and its warm tone pair well with the stainless steel kitchenware that is furnished in most homes.
And for practicality, inherent design appeal, and more,
brass just works in a space that requires a lot of work.
For a more feminine and luxurious take on this aesthetic,
opt for rose gold details and hardware. Although significantly more difficult to maintain than copper, rose gold—a mixture of gold, copper,
and silver—has a unique air that cannot be duplicated by other metallic styles and finishes.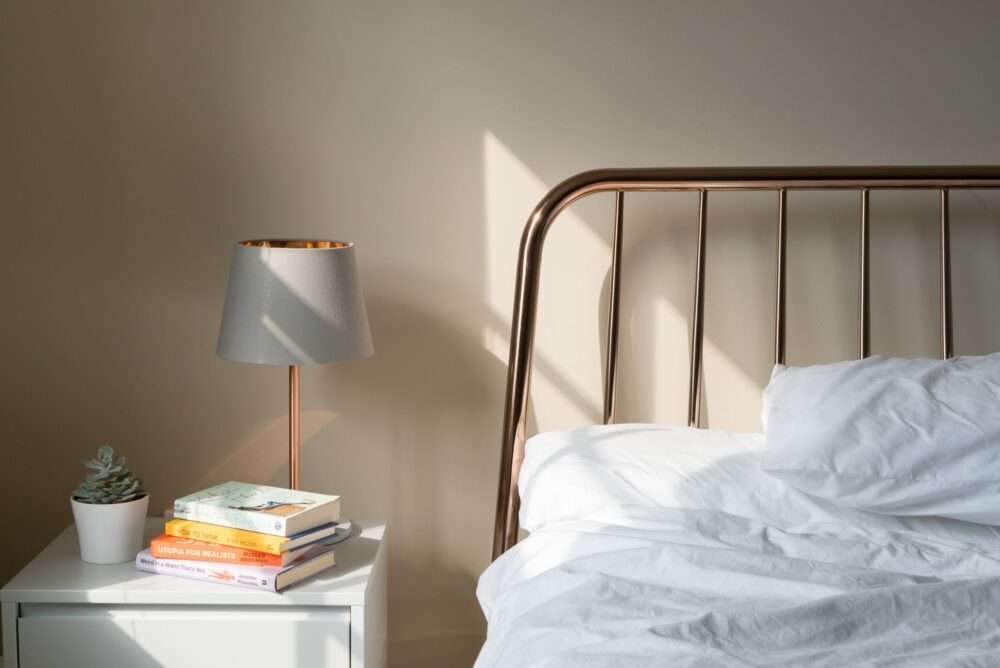 For the bedroom, you can play with variations of the same metal
In the past, metals and metallic accents were restricted to industrial interiors and considered too masculine.
By choosing yellow-toned metals like rose gold and copper, you can create a warmer,
less rugged atmosphere that's perfect for a relaxing space like a bedroom.
An interesting take on metallics in the bedroom is to mix metals and work with different textures,
but if you're not quite ready to immerse yourself in metallics and mix them like an expert,
You can dip your toes in design practice by matching different tones of the same metal.
And rose gold with subtle gray undertones can create an understated visual interest when paired with its brighter, more polished counterpart.
Silver is another metal that has occurrences – perhaps more than any other –
in household pieces, ornaments, and fixtures.
Just as inexpensive, cool, and easy on the eyes,
silver is another great option for experimenting with metallics in your rooms.
For the bathroom, go the funky route and go with darker metallics
Contrary to popular belief, metal decor and fixtures still feel good.
This includes all kinds of metallic finishes, not just the usual shiny gold leaf and shiny steel.
Brushed, matte and dull finishes are less traditional and will certainly make an interior more interesting.
The trick is to use it with materials and make that evoke a warmer feel – like light woods,
yellow lights and soft edges.
Bathrooms also tend to feel cold and unwelcoming –
and dull metals certainly don't help make the case.
But with bright elements and subtle highlights that highlight your darker metals,
You can definitely turn your bathroom from a cool room into a resting place
where you enjoy doing your night time routine.