NEOM Unveils Epicon: A New Paradigm in Architectural Brilliance
In a bold move, NEOM introduces its latest venture, Epicon, a cutting-edge destination set against the stunning backdrop of the NEOM Mountains. The Epicon development features two towering structures—one reaching an impressive height of 225 meters, while the other soars to 275 meters. Comprising 41 luxury tourist apartments and residences, including 14 suites and apartments, Epicon is poised to redefine opulent living.
The heart of Epicon includes a resort boasting 120 rooms and 45 beachfront villas, all meticulously designed to blend seamlessly with the picturesque Gulf of Aqaba. NEOM, in collaboration with international architects, announces this luxurious addition to its portfolio, reflecting a commitment to sustainability and innovation.
NEOM Epicon Design Architects
Like a dreamy apparition, the Ibicon project appears on the horizon of NEOM's desert environment, providing a portal to the majestic Gulf of Aqaba. Architects Leonard Milford and Chris Jones, along with their talented team, have been appointed to design the complex, and have earned a Certificate of Design Excellence for their remarkable work. Epicon is a breathtaking marriage of the forces of nature, special moments, and ingenious architecture.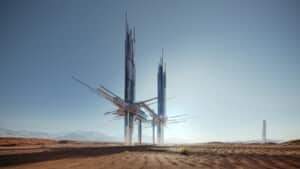 Destination Highlights:
Two towers, 225 meters and 275 meters high, housing a luxurious hotel.
41 tourist apartments and residences, including 14 suites.
A resort with 120 rooms and 45 beachfront villas.
Tranquil surroundings that merge tranquility with luxury.
Epicon sets a new standard in architectural design for the hospitality sector, embracing innovation in constructing facilities that harmonize with NEOM's coastal landscapes.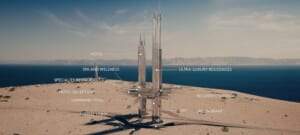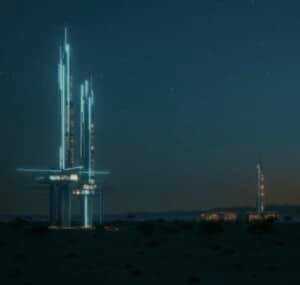 Amenities and Experiences:
Epicon offers an array of entertainment options, catering to residents and guests alike. From relaxing at the beach club to indulging in spa retreats tailored to individual preferences, the destination ensures a perfect blend of nature exploration, water sports, and fine dining.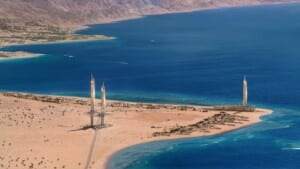 Facilities include a state-of-the-art fitness center, a library, workspaces, swimming pools, and welcoming reception areas. The development aligns with NEOM's vision for sustainable tourism, leveraging the region's unique natural features.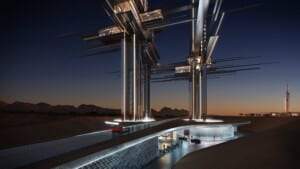 Epicon follows the announcement of "Liga," NEOM's sustainable tourism destination, emphasizing a commitment to providing diverse tourism experiences that seamlessly integrate the charm of nature with advanced engineering and technology. NEOM continues to support local tourism by enhancing sustainability, innovation, and leveraging the unique assets of promising natural areas. Stay tuned for an unparalleled experience at Epicon, where architectural brilliance meets natural splendor. #NEOM #Epicon #SustainableTourism
NEOM unveils its latest architectural masterpiece, Epicon, a visionary development nestled against the captivating NEOM Mountains. This groundbreaking project introduces two striking towers—one soaring to an impressive height of 225 meters, while the other reaches an astounding 275 meters. Epicon's design is nothing short of extraordinary, reminiscent of suspended towers that evoke the essence of the Hanging Gardens of Babylon and cinematic architectural wonders seen in Star Wars.
Step into a universe of architectural brilliance and design at Epicon – a resort offering sublime tourist apartments, extraordinary residences, 120 luxurious rooms, and 45 stunning beachfront villas. All aspects of Epicon are carefully crafted to exude a unique visual spectacle, reflecting the charm of suspended structures and the visual enchantment of Star Wars. Experience the beauty of the Gulf of Aqaba in a new way as you explore the architectural innovation of Epicon, showcasing NEOM's motto of embracing boundary-pushing design that complements its natural environment. Get ready to go on an extraordinary journey – it's time to discover where design and fantasy meet.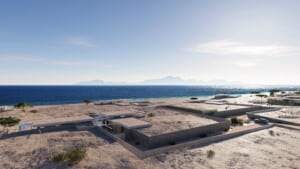 إبيكون هي تعبير جريء وطموح عن المستقبل. اكتشف المزيد عن تصاميمها المعمارية الآسرة من المهندسين اللّذين صمّما معالم هذه الوجهة الاستثنائية.#إبيكون #نيوم pic.twitter.com/UbBKMaXtiG

— NEOM (@NEOM) November 16, 2023
Introducing Epicon, a luxury destination at the northernmost point of the NEOM coastline.

A perfect union of majestic nature, extraordinary experiences and architectural ingenuity, Epicon will be the starting point of great adventures.#Epicon #NEOM pic.twitter.com/9seJgwROGP

— NEOM (@NEOM) November 15, 2023