MVRDV and Mumbai architecture practice StudioPOD have transformed a neglected space under the
Senapati Bapat Marg concrete bridge into a new community space in Mumbai, India.
Design Features
Dubbed the One Green Mile, the design is the masterplan
and urban design of the 1,800-meter-long streets and transportation systems along Senapati Bapat Marg.
It was designed by StudioPOD, while MVRDV transformed an unused 200-meter-long space under the flyover,
known as Parel Baug, into a community space.
While MVRDV added much needed amenities, as part of the master plan,
green spaces and improved mobility creating a strong visual identity for the entire local community.
More broadly, according to MVRDV, the scheme presents a replicable approach to sustainable urban development,
as it affirms a new standard for underutilized public spaces in the densely populated Indian capital.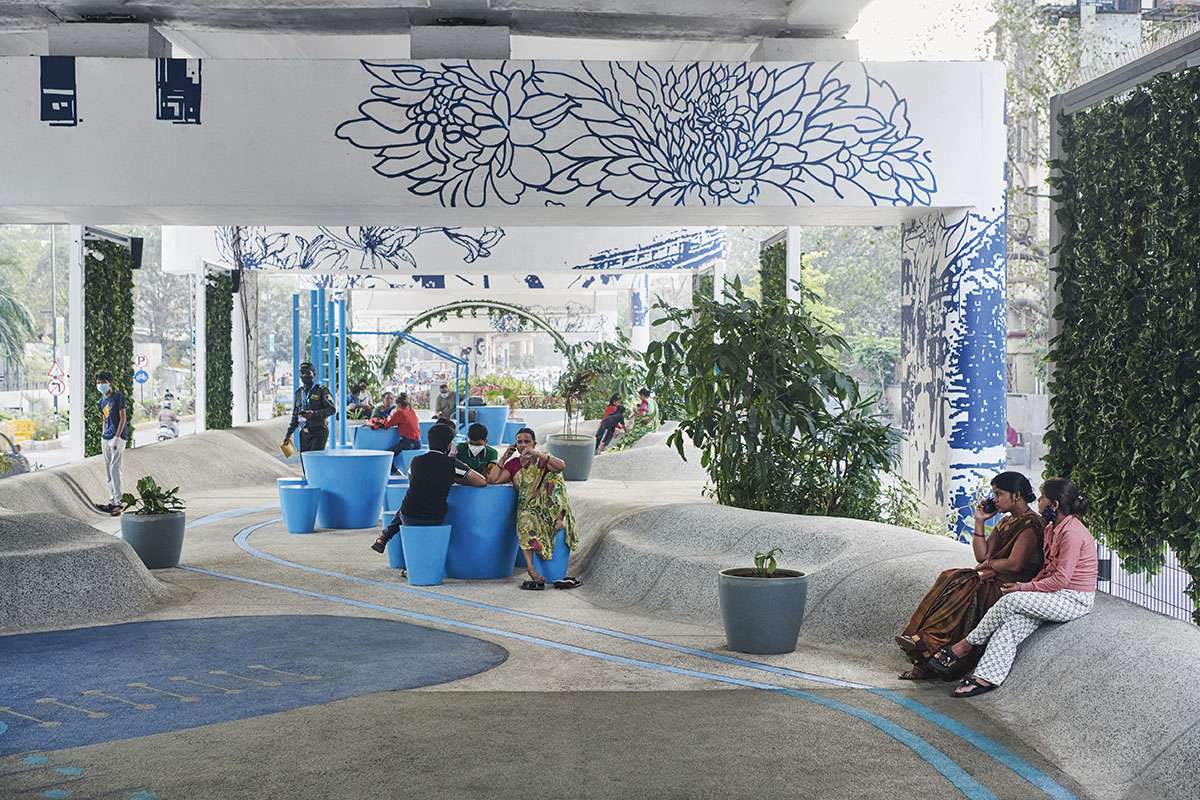 Senapati Bapat Marg
The Senapati Bapat Marg Overpass is part of a series of major roads that stretch for more than 11 kilometres, through the heart of Mumbai.
This leads to significant noise pollution and the creation of a barrier between adjacent areas,
which limit mobility options.
In connection with the development of an office in the area,
local architecture firm StudioPOD was commissioned by Indian real estate firm Nucleus Office Parks.
To improve the 1,800m stretch of streets spanning beside the flyover,
the most challenging part of this scheme was to convert an unused space under the bridge structure itself.
To achieve this, MVRDV was invited to collaborate on a community space that would address the negative impact of the flyover
while responding to the area's lack of green space and physical amenities.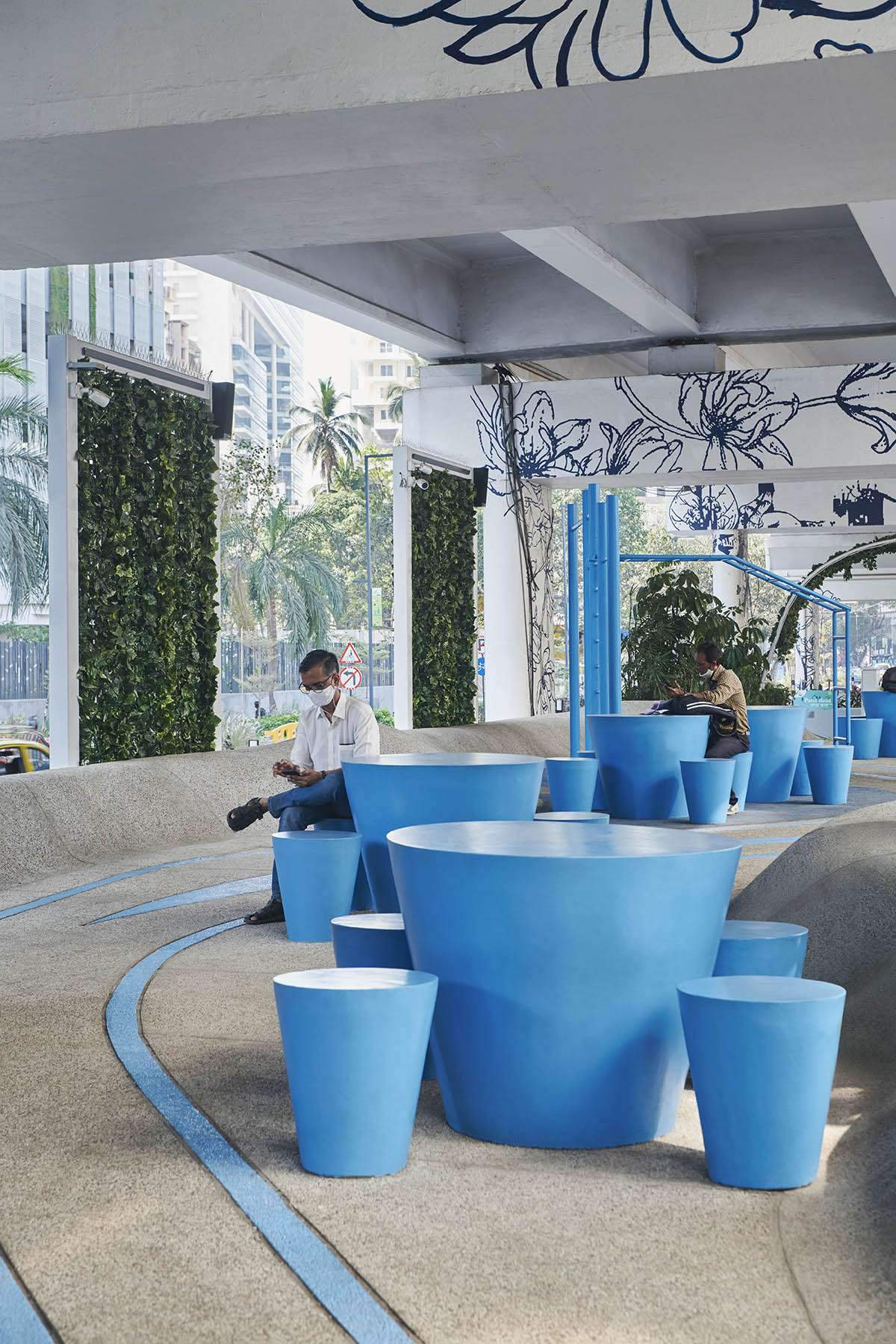 Whereas StudioPOD's planner initially resolved traffic and street profiles and helped define the program and identify target groups,
expanding on this, MVRDV created squiggly blue lines and extended this visual identity to all elements of the space,
and proposed a concept for One Green Mile that offers a joyful and holistic urban spatial experience.
Creating a hilly landscape, the landscape also transforms 2D visual features into a 3D spatial experience,
accommodating a full range of different programs and providing dynamic physical appeal.
Visual discrimination colors in materials and graphics make it possible to recognize all aspects of the intervention as a whole.
MVRDV also divided the entire bar into a series of public 'rooms' with various functions –
such as lounge, gym, shaded sitting area, performance space and reading room.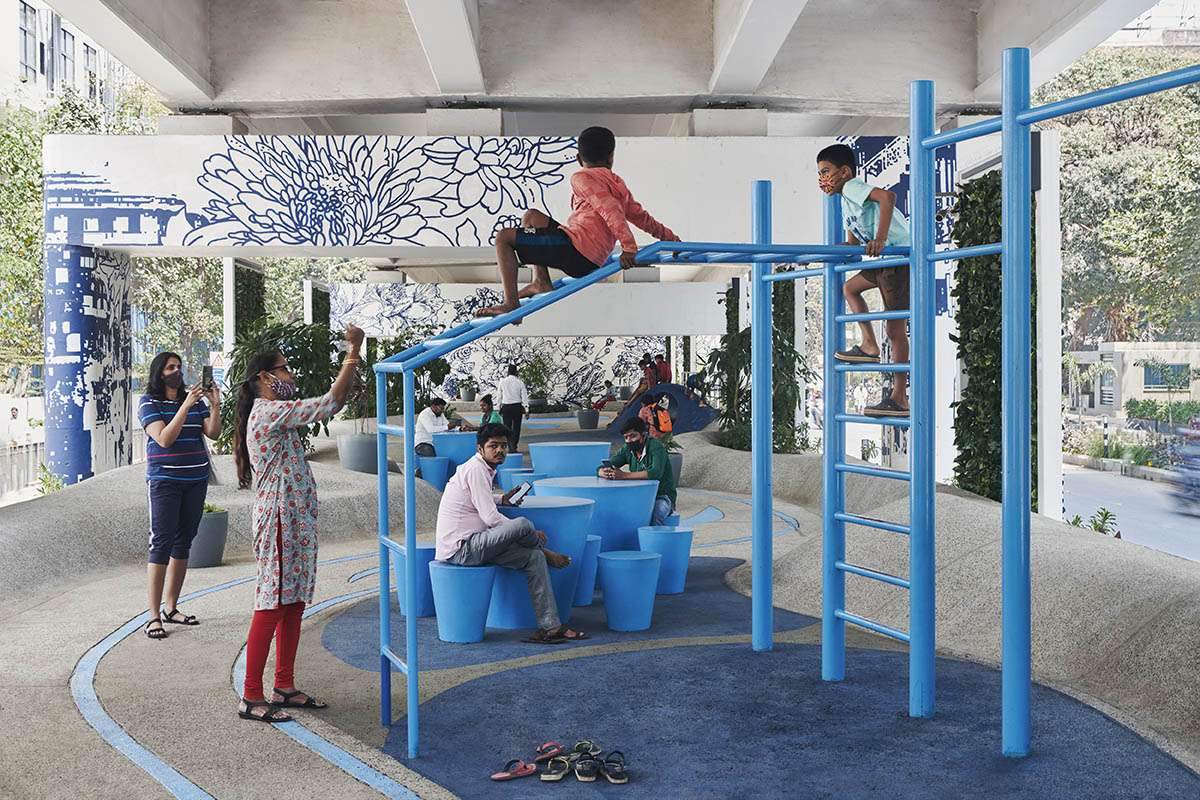 One Green Mile
Planting is extended throughout the space and greenery in the design, appearing on a series of screens lining the space.
A walkway at the entrance, in retaining walls and farms, to promote biodiversity,
while cooling the surrounding spaces and reducing noise pollution.
The project also enhances pedestrian and cyclist communications to make the area more comfortable and accessible,
Landscaping features include paving, bike paths, and bright, wide zebra crossings that enhance safety.
MVRDV added, "It improves accessibility by integrating an uninterrupted mobility network and a mobility hub to stimulate cycling.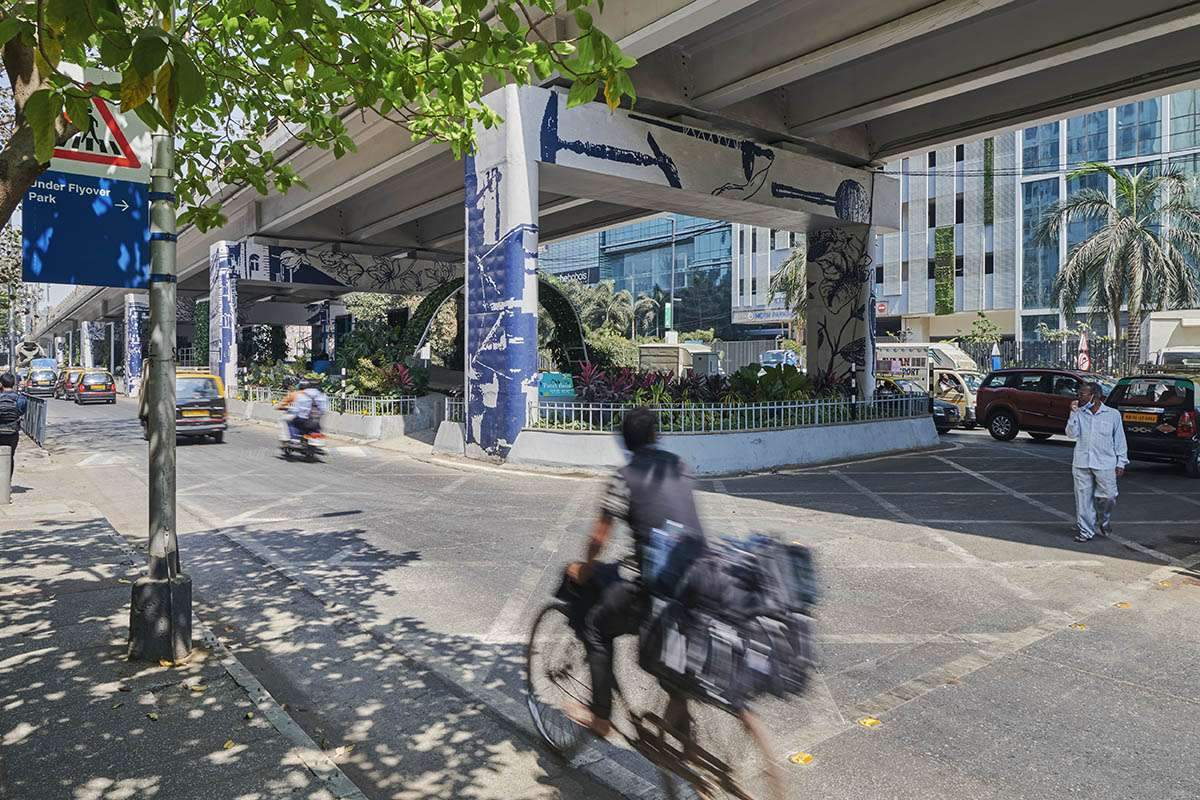 The district lighting concept works in tandem with robotic elements and urban
furniture features to create a unique setting, ensuring round-the-clock safety.
MVRDV also emphasized that the project embodies
the circular economy approach by utilizing the space under it and increasing the value of the bridge itself.
In addition to moving cars, it acquires a new purpose as a protected and occupied public space.
For more architectural news