False ceiling design ideas for home,
The majority of interior design projects today rely on incorporating the latest styles and trends into home decor.
In residential and commercial environments, false ceiling designs have become an important element.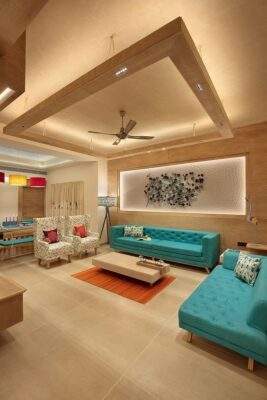 How to choose the best false ceiling design?
Room purpose and aesthetics:
Determine the room's function and desired ambience,
match the ceiling design to the overall interior style and theme.
Ceiling height and space:
Taking into account ceiling height and available space, choose designs that enhance the perception of space in smaller rooms.
Lighting and integration requirements:
Assess your lighting needs and desired lighting effects,
choose a design that allows for the integration of different lighting fixtures.
Material selections and durability:
Explore different materials such as gypsum, metal or wood, and consider durability,
maintenance requirements and resistance to moisture or heat.
Budget and cost effectiveness:
Set a budget and prioritize accordingly,
and look for affordable options that offer a good balance between cost and quality.
Professional guidance and installation:
Consult with interior designers or false ceiling experts, and seek advice on design possibilities,
technical aspects and suitable installation methods.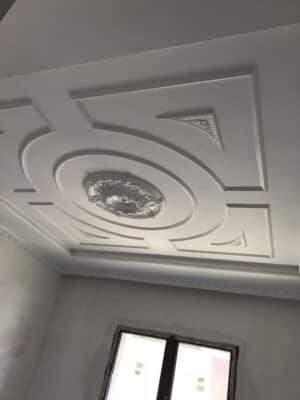 Latest false ceiling design ideas
Discover popular false ceiling designs to add an aesthetic touch to your home.
False ceiling with intricate patterns
Choose a POP false ceiling design for your living room or bedroom,
choose intricate designs based on your style preferences.
Also, choose golden decor elements and appropriate lighting to give it a royal feel.
Asymmetrical false ceiling design
Random shapes and designs can give your false ceiling a unique look, and it also works well for modern bedrooms.
Layered false ceiling design
Layered ceiling design is in trend and can be the best option to elevate your home décor,
choose a layered stretch panel to take your décor to the next level.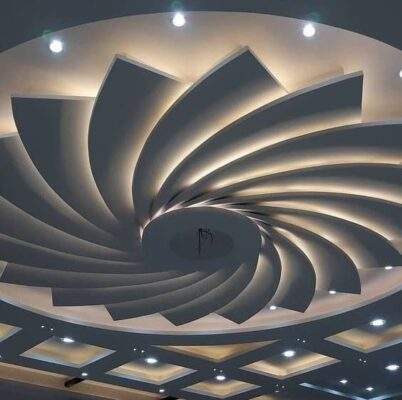 Classic false ceiling design for bedroom
This is one of the most common designs used in the construction of standard false ceilings
that are not very complicated.
The simple false ceiling design is very popular as it can be used in a variety of finishes.
The classic design of suspended ceilings for the home includes consistent and smooth finishes,
as well as finishes for corridors and many other rooms.
You can choose from a variety of roof room design styles, such as square, rectangle or octagon.
In addition to being beautiful to look at, this simple master bedroom ceiling design has its own distinct appeal.
Modern false ceiling design for bedroom
For an elegant and sophisticated look, this modern bedroom false ceiling design 2022 is perfect.
Partitions in the design of the false ceiling for the bedroom and living room come
in a variety of shapes and sizes.
The bedroom ceiling can be illuminated or ventilated with the help of these partitions
that can be designed in any way you choose.
Floating false ceiling design
To give your bedroom a luxurious and refined look,
this floating false ceiling for bedroom uses minimal materials while still looking stunning.
Once the fanned bedroom ceiling design is installed,
LED lights around the false ceiling provide gentle light throughout the space,
giving the impression that the ceiling is floating in the air.
False ceiling design
Coffered style is one of the best false ceiling designs for bedroom,
Coffered ceilings are usually square in shape and have intersecting beams that create a grid-like pattern.
They also provide heft to the ceiling and are likely to catch the eye of any passers-by.
You'll love this bedroom false ceiling design if you appreciate squares with a unique touch.
See More: An inside look at Keanu Reeves' house