Tips to make use of interior spaces in confined spaces,
When we are in confined spaces, imposed on us by the conditions and laws of architecture, we must do what we can to take advantage of all the interior spaces in the place.
We can follow some tips in order to make the most of our interior spaces:
Make use of the space under the bed
Over the past few years, we've explored different ways to take advantage of small spaces in residential architecture.
From functional furniture to kitchens with convertible systems to air conditioning basic household appliances,
Architects have begun looking for effective ways to improve the rare earth space or make spaces more flexible in styles and uses.
Hanging hammocks in apartments
An undeniable passion and an iconic design element in many places, hammocks are essential pieces of furniture in many Brazilian homes.
However, in small homes or apartments, it is often difficult to fit hammocks in the room.
Swings are increasingly becoming an alternative piece of furniture in urban homes, as they are used as hanging armchairs attached to the ceiling.
The traditional swing has been reimagined in a new language, and still evokes the idea of lightness and relaxation.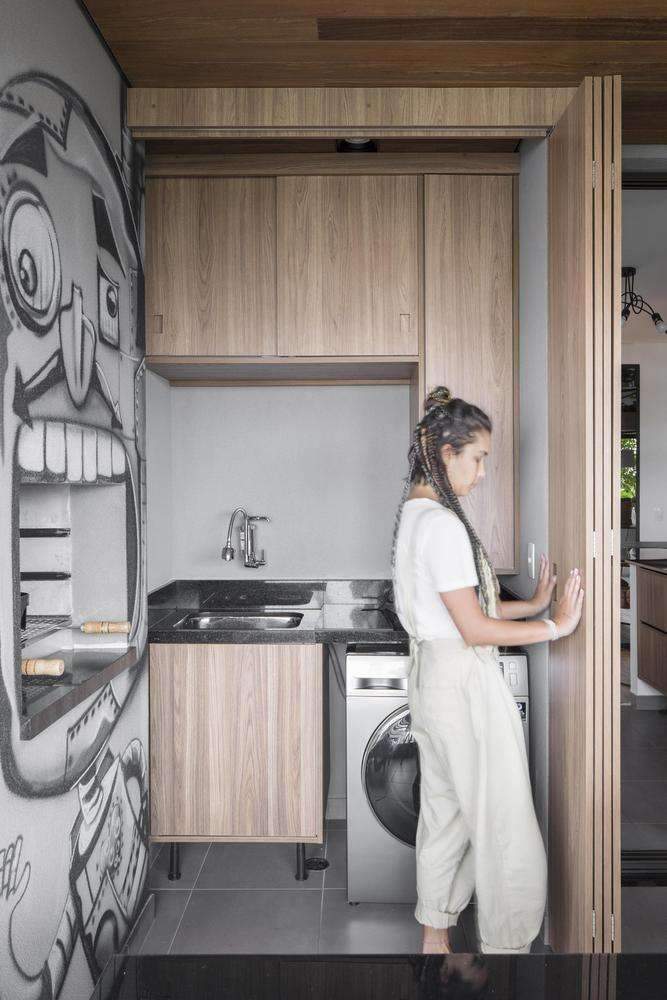 Laundry area organization
Laundry rooms or utility rooms are an unnecessary luxury in modern homes,
and it is undeniable that this space is an important part of Brazilian homes.
They are not only used for washing and drying clothes but also for storing cleaning products and other items.
And since these spaces are usually quite small, it is not always easy to keep them organized to ensure maximum functionality.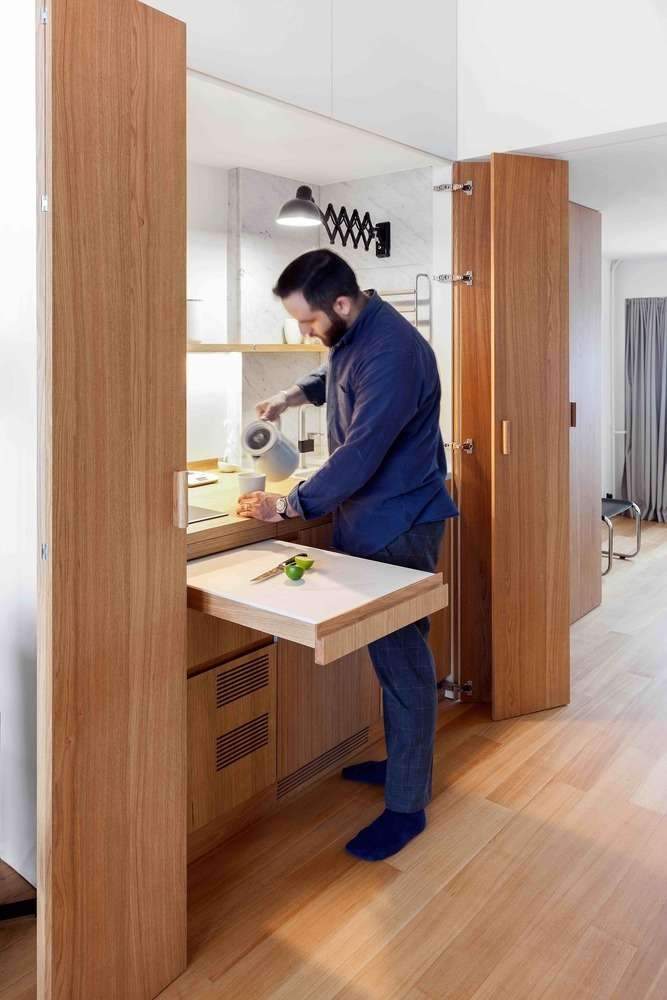 Hidden Kitchen Design
The kitchen is a part that exists in every home and, in many cases,
is quite a symbol of home life; it can also take up precious space and may create visual clutter,
detracting from the simple aesthetic of elegance.
And for some homeowners, the solution is simply to keep the kitchen clean and organized at all times.
But for some innovative contemporary architects and their clients,
the solution is to design a compact kitchen that can be concealed and can be closed quickly and easily for display.
Accessible bathrooms for the elderly
Well-designed environments are essential to reduce accident risk and response time in the event of a fall.
For architects, the work of designing safe cities and homes is essential, especially when looking at demographic trends around the world.
The execution of that architectural work, with a good project and correct product specifications,
is above all a gesture of affection and concern for our families and fellow elderly citizens.
Tips to make use of interior spaces in confined spaces
Hence, it is necessary to ask ourselves these questions: For whom?
What are their needs?
From there, we can start thinking about how to improve their quality of life.
For older adults, the most common bathroom hazards include slippery showers, sinks,
floors and toilet seats that are too low, inadequate grab bars, unnecessary obstacles and many other things.
Certain details and solutions included in the environment can improve safety, in the design of bathrooms,
and specifically, safety must play an essential role.
Coatings must respect non-slip properties and provide a proper aesthetic, and the floor must never be slippery, let alone wet.
Particularly important are the shower and toilet.
To facilitate access and reduce the risk of falls in these places,
very flat shower trays should be placed at ground level, or not to exceed 10 cm in height.
This, in addition to greatly avoiding the risk of falling, avoids making extra efforts to reach this space,
providing greater user independence.
These should also feature a non-slip surface.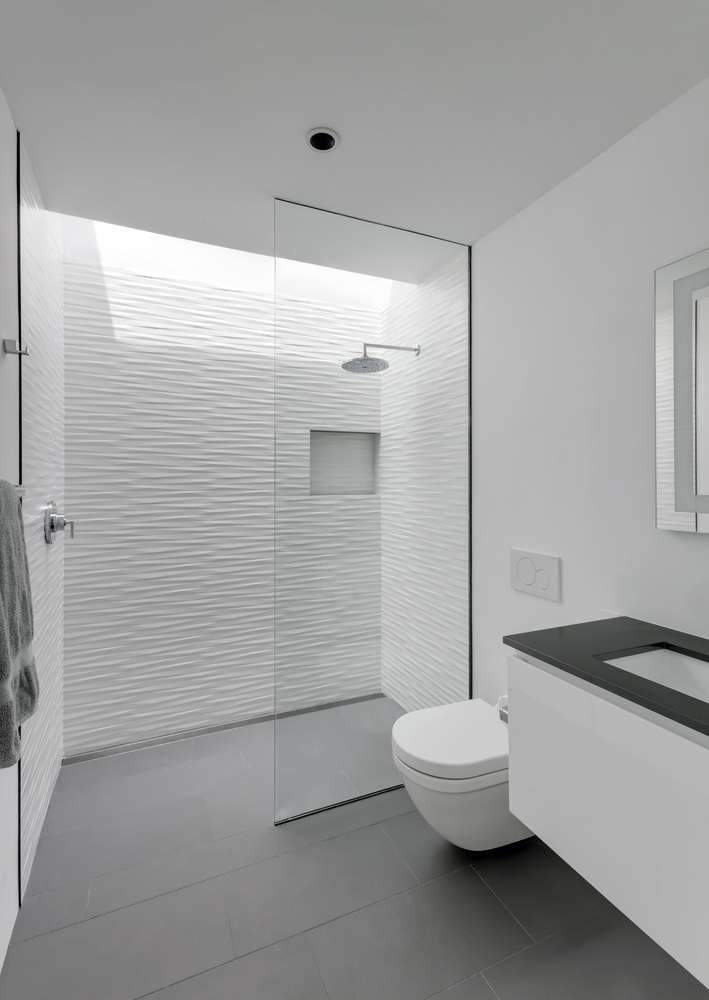 Design of bathrooms without doors or curtains
Since it may not include a bathtub, or require doors, screens, or curtains,
walk-in showers often make bathrooms appear larger, cleaner, and simpler.
However, some precautions must be taken when designing it, and most importantly,
the bathroom cannot be left completely open, even if it appears at first glance.
Most designs include tempered glass that prevents water from "blinking" out of the shower space,
subtly sealing the area.
When this transparent partition does not have a structure,
the appearance of fungi due to the accumulation of water and moisture is less likely.
For this type of shower, effective design is imperative,
the correct positioning of the shower head and water path will help prevent water from seeping into the rest of the bathroom.
If you do not want to include a bathtub of a certain depth, and therefore leave the floors at the same level,
you should add a slight slope that will carry water into the drain.