In a new precedent in the Kingdom of Saudi Arabia, the architect Jean Nouvel revealed the designs for the new project that he is designing commissioned by Prince Mohammed bin Salman, which is a high-end Sharaan hotel resort project, which is being built in the hollow of rocks in the middle of the Al-Ula desert in Saudi Arabia.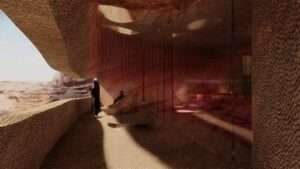 According to the French architectural magazine AD France, the new project plans to breathe life into the heritage of that region linked to history, which dates back to pre-Islam and the origins of the Arabs and the Arabian Peninsula, and the Kingdom has embarked on further research through archaeologists who conduct searches for antiquities in various sites. In the region.
The Royal Commission for Al-Ula, whose board of directors is chaired by His Highness the Crown Prince Mohammed bin Salman, has drawn up an action plan to highlight the place's wealth and attract tourists. With this in mind, "Jean Nouvel" was asked to build a luxurious hotel, commensurate with the beauty and heritage of AlUla.
The famous architect, who designed the most important international buildings and won architectural awards, including the famous Aga Khan Architectural Prize, revealed that the hotel will be a distinctive face in the Kingdom, while Nouvel seeks to make the resort harmonious with nature within the atmosphere and heritage of AlUla.
The project will include 40 rooms, and three villas, all of which will be dug into the rocks. Balconies will overlook the surrounding landscape, and a large circular foyer will be dug into the rock mass to receive visitors.
In order to preserve the spirit of the area, the interior walls of the resort will be left in their natural form, colored sandstone.