Berlin is that the undisputed home of techno music in Europe and doubtless for the entire world. The distinctive energetic music flourished within the underground scene of a newly-reunified Berlin at the beginning of the 1990s. Originally held in abandoned factories, hangers, and underground stations, illegal raves that celebrated life and freedom, and were fuelled by techno music, soon became legitimate clubs that also operate to the present day.
Techno music clubs and raves have felt the impact of the COVID-19 pandemic, with venues quickly being pack up to limit the spread of the coronavirus. The Berlin Techno Booth competition may be a light-hearted initiative to assist cheer up the tired and frustrated techno music community by introducing dance cabins to Berlin's streets.
For this competition, participants are asked to style a short-lived structure that would accommodate one dancer, allowing them to bop and luxuriate in Berlin's best techno music, all while social distancing. The sole constraint is that the structure must have a maximum area of 4 m2.
While there are not any specific requirements for design submissions, participants are encouraged to be as creative as possible, challenging the standard ideas of housing, design, and therefore the community at large. Those projects that manage to merge blue thinking with a component of practicality will likely be the foremost successful.
PRIZES 
3 winning proposals, 2 special award recipients, and 6 honorable mentions will be selected. Bee Breeders will award a total of 6,000 €  in prize money to competition winners as follows:
+ 6 honorable mentions
COMPETITION SCHEDULE 
Advance Registration: MARCH 24 – APRIL 20
Last Minute Registration: APRIL 21 – JULY 6
Closing date for registration: JULY 6, 2021 
Closing date for submission: AUGUST 31, 2021 (11:59 p.m. GMT) 
Announcement of the winners: OCTOBER 12, 2021 
JURY:
AKUT, street artist
Dan Dorocic, ON/OFF
Gonzalo Lopez, knit knot architecture
Jürgen Mayer H., J.MAYER.H und Partner
Kerim Miskavi, MAS – Miskavi Architecture Studio
Alice Pasquini, street artist
Nicolas Sterling, Sterling Presser Architects, and Engineers
Elke Sterling-Presser, Sterling Presser Architects and Engineers
More:  architecturecompetitions.com/berlintechnobooth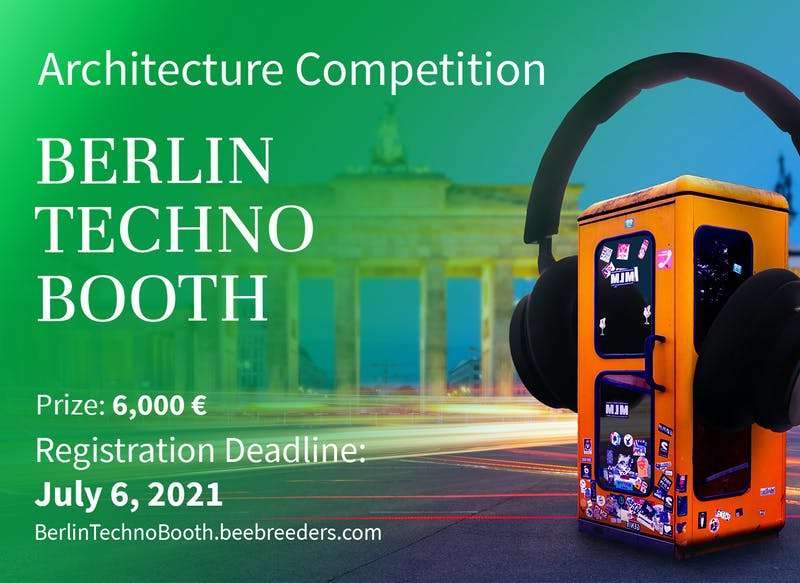 COMPETITION SCHEDULE 
Advance Registration: MARCH 24 – APRIL 20
Last Minute Registration: APRIL 21 – JULY 6
Closing date for registration: JULY 6, 2021 
Closing date for submission: AUGUST 31, 2021 (11:59 p.m. GMT) 
Announcement of the winners: OCTOBER 12, 2021