The architecture firm Ian Shaw Architekten in Frankfurt, has completed the BV Mehl building in Germany.
Design shape
The building consists of 2 intertwined and cantilevered cubes consisting of 2 single apartments,
the building also includes 2 family apartments, and was named BV Mehl.
Floor plans have been edited to maximize flexibility of use,
by integrating all technical services into a central spine with exposed concrete load-bearing walls, demonstrating the structural rationale.
The shed is designed for full access, with high-quality materials such as jura stone,
oak and exposed concrete left in its natural, untreated state, and the shed is unobstructed.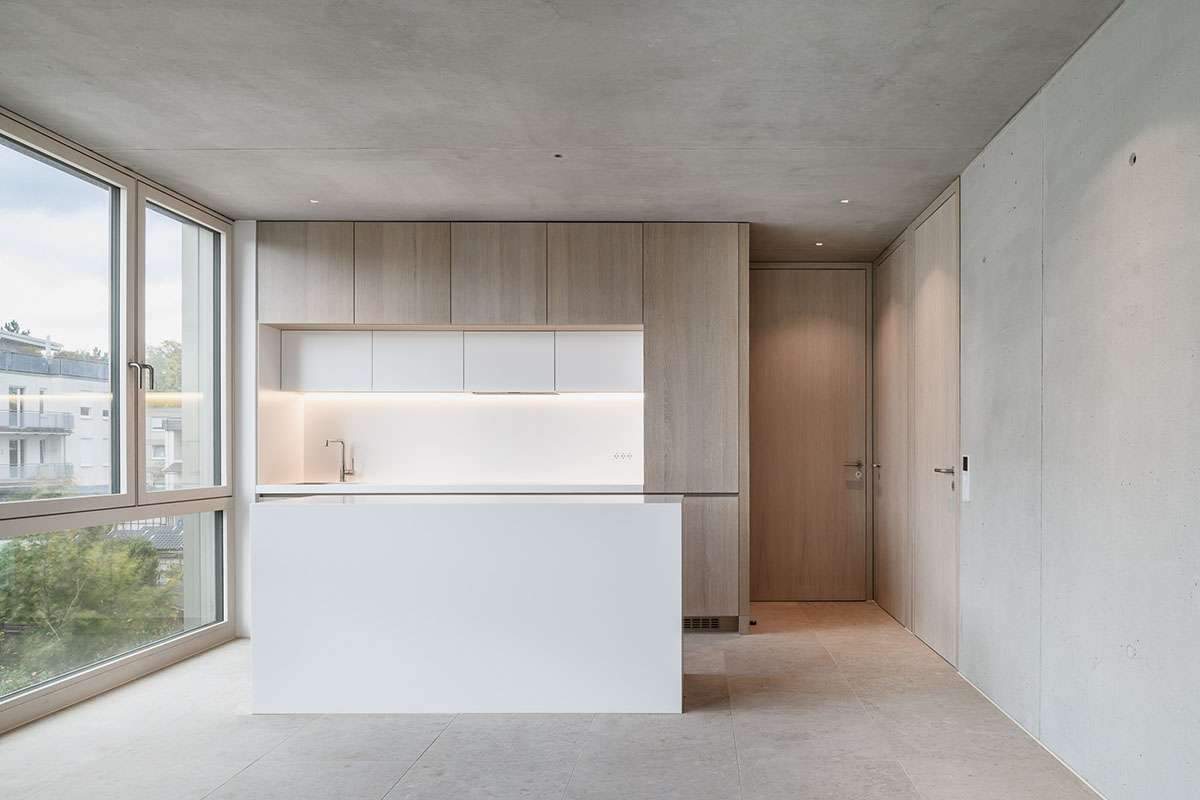 All heating systems are powered by two heat pumps that in turn run on green electricity,
and each apartment has individual hot water plants that provide hot water on demand and reduce overall heating costs.
Window fans, along with bathroom fans, provide continuous ventilation to protect against moisture,
and all windows are openable.
Heating, ventilation and sun protection can also be controlled via a smartphone,
while the LED flood lights in the ceiling are programmed to be controlled by hand gestures.
Each apartment has four bicycle parking spaces, two above ground and two in the basement,
in addition to parking spaces for each apartment.
While the parking spaces have rechargeable electrical connections.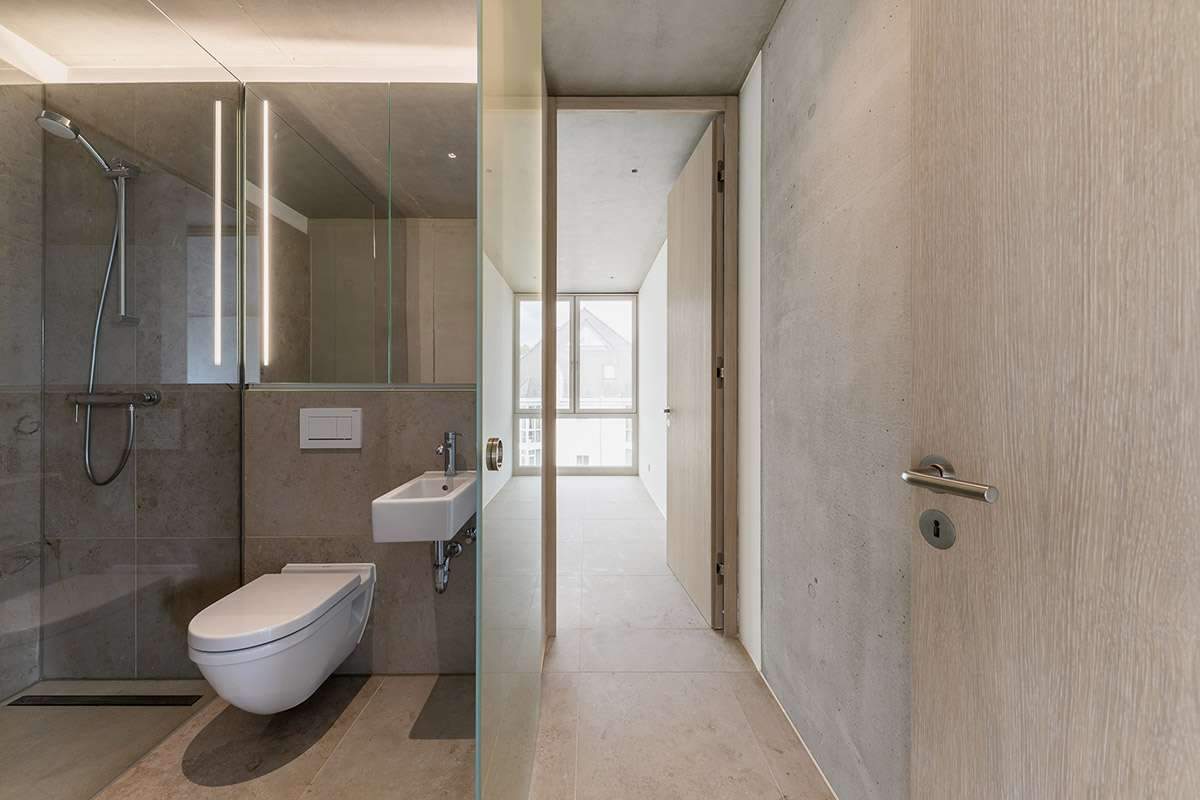 Ian Shaw Architekten
Founded in 1998, Ian Shaw Architekten is an award winning company headquartered in Frankfurt.
It offers full service architecture along with urban design and master planning, interior architecture, furniture and product design, acoustics and sound system design.
Ian Shaw Architekten's diverse collection of building models reflect their extensive experience across the commercial, cultural, industrial and residential sectors.
Ian Shaw Architekten is a member of both the Bund Deutscher Architekten (BDA) and the Royal Institute of British Architects (RIBA).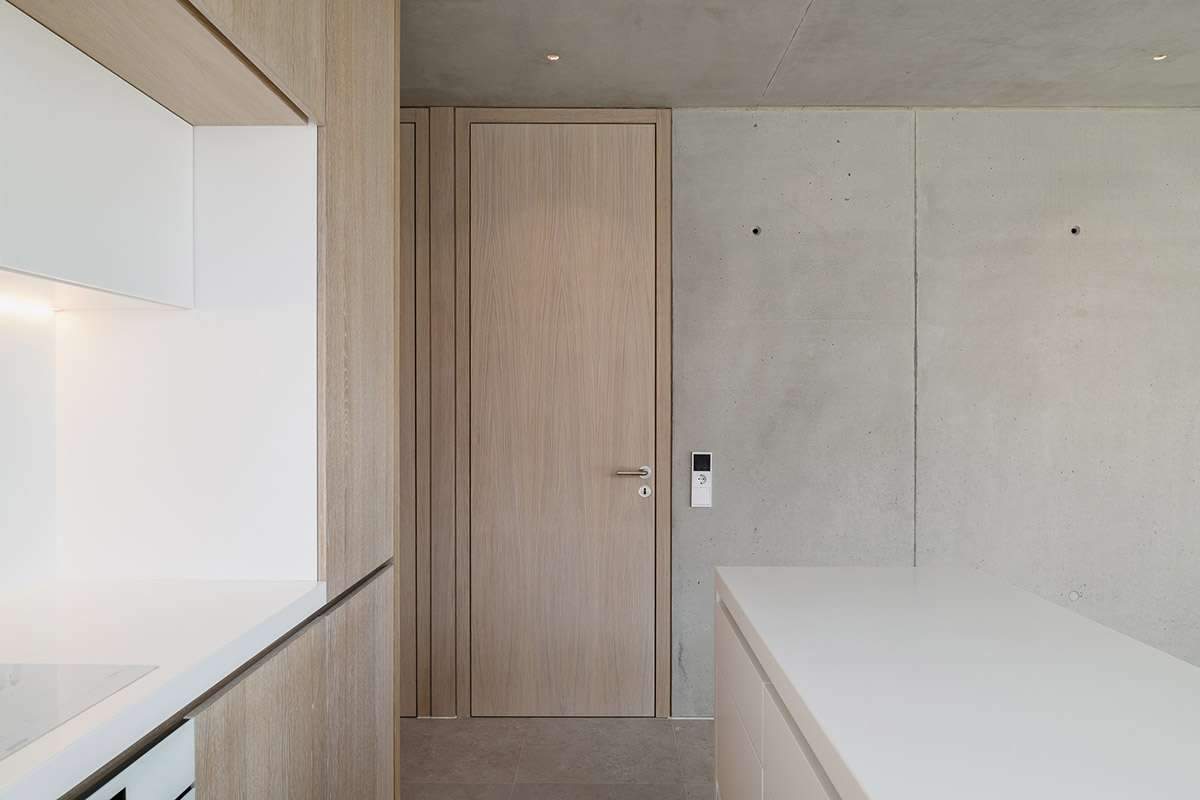 Principles of Ian Shaw Architekten
The practice is concerned with the building's communicative potential and relative importance,
and an integral part of this approach is the use of light as a building element, defining space and moving form.
Every scheme they make is developed with efficiency, elegance and originality, always expressed with close reference to context and function.
Essentially, the buildings aim to generate a strong sense of place through deep experiential content,
and are about rooting architecture in its culture and topography.
Tackle Ian Shaw Architekten
Everything that Ian Shaw Architekten creates is the result of an intense dialogue between them and their clients.
Every detail is carefully considered, from concept design to completion – including working drawings and specifications, strict site supervision and cost control.
In addition, they use models extensively in developing a new project.