Primavera is a gorgeous series of sculptural coffee tables that NYXO ingeniously creates using 3D printed lightweight foamy bioplastic.
Innovating fabricating "Primavera"—a striking collection of sculptural coffee tables expertly built from 3D printed lightweight foamy bioplastic—design studio NYXO explores new material technology.
Its organic fluid shape, which combines flawlessly with geometric rigor, perfectly represents the renewal of natural cycles.
The inventors, Mirko and Michele Daneluzzo, claim that their designs "celebrate the new life of the material with sinuous curves and a feast of vibrant colors – the pattern of each piece further evolves along the height, increasing complexity from the base to the top."
Camelia, Azalea, Dalia, and Felce are among the magnificent products that make up this flower-inspired collection, which is beautifully blossoming in the shape of an iconic family of goods.
Camelia's sassy curves, which embody a contemporary twist, give this unique piece of furniture. Its inspiration came from the floral symbol of love, a new, passionate personality.
Additionally, its ephemeral texture and distinctive graphic note, which are three-dimensional and energetic, effortlessly convey passion and grace.
Pieces that reference the flowery world and the seasonal cycle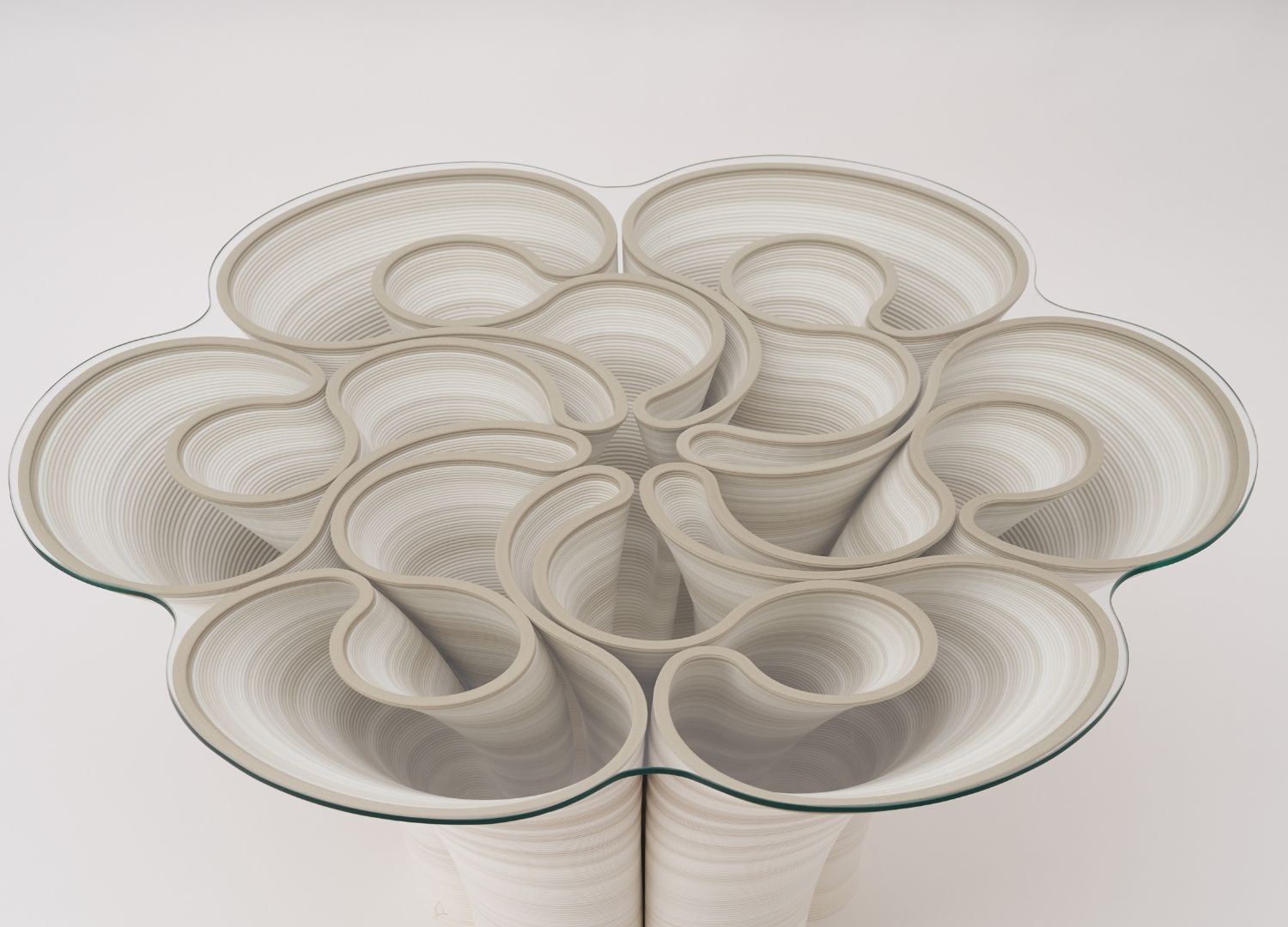 Azalea, which is distinguished by a labyrinthine surface, on the other hand, depicts a profusion of enormous blossoms and incorporates a continuous flow of lines that harmoniously grounds the table to the floor.
Moreover, this intriguing twisting object, a Sibylline enchanter with a dark side, has a particular personality.
Dalia's intricate geometry, which also includes curves, overlaps, and shadows, captivates the eye with remarkable emotive perspective effects.
A timeless representation of beauty and purity, the Dahlia blossom served as inspiration for this design. Its central void serves as the focal point from which the sinuous rays draw a lovely and continuous pattern.
The top is shaped by exact contours that flow into soft hues, and the dense form of the petals provides both power and elegance.
Last but not least, the body of the seductive table Felce rises in a dexterous fresh, luscious spiral, and the ribs flex as if somewhat blown by the swirl.
Furthermore, its intriguing top pattern has wavy curves suggestive of plant fronds. And it was "inspired by the fern, one of the oldest plants extant on Earth," according to the authors.
Read more on Archup:
Micro Renovation of Urban Park by Atelier cnS + School of Architecture, South China University of Technology