Green Room Design produced the Puma Skill Cube, an immersive experience that allows customers to interact with brand ambassadors while playing games.
Puma has constructed a new flagship store on Fifth Avenue in New York. The iconic San Siro Stadium in Milan is neatly packed into a little box called the Skill Cube inside this two-story boutique.
Green Room Design's experience transfers you to a virtual football stadium or a decommissioned warehouse; an experience specifically developed to provide the finest authentic footwear trial while still in the shop.
Green Room is a human experience design studio dedicated to making people's lives better. A perfect mix of magic and logic, merging physical, digital, and communications to create seamless multi-channel solutions that connect through the senses, satisfying both the emotional and commercial needs of customers.
Green Room's creative platform, 'idols brought to earth,' incorporates global PUMA brand ambassadors, athletes Lewis Hamilton, Antoine Griezmann, and Romelu Lukaku, into an immersive experience, framing the athletes as virtual training partners, rather than elite and unreachable superstars. The goal of this strategy was to pique the interest of PUMA's new target demographic, Gen Z.
Griezmann or Lukaku kick off the football experience in the locker room. After that, the players move to a CGI recreation of San Siro Stadium.
5 million unique blades of grass, independent movements of all 80 thousand football supporters, and updatable sponsorship boards, TV screens, and pitch patterns are all part of the incredibly complex experience.
The floor is covered in a high-quality, multi-sport synthetic grass — designed to deliver a hyper-realistic experience, the Puma Skill Cube allows players to fully appreciate the benefits of the footwear.
The skills cube provides the players with a score at the end of their training amid confetti cannons, pyrotechnics, and a cheering crowd.
Puma Skill Cube allows you to train alongside your favorite athletes
It's also possible to train with Lewis Hamilton. The cube transports you to a deserted warehouse. The three trials in this encounter are thee ladder, jab, and jumr. It allows you to compete against your heroes and learn directly from them.
While you're playing, the cube records your actions and adds you to a Leaderboard where you can compete with others. In the waiting room, this is on display. They also offer you a personalized email and SMS that you may share on social media.
Customers will return to the store to improve their scores as a result of this method. "We wanted to create a real experience of using PUMA items – one that was multimodal and fully immersive," said Jamie Mac, Green Room's Design Director. The Skill Cube has been a huge success, with 1145 tries recorded in the first seven weeks after it opened."
This is a standout example of superb retail experience design for several reasons. To begin with, the experience is engaging. Second, it is highly unique to the brand and fits very seamlessly with it.
Finally, it aids in the rise of store visits and sales. Finally, it does not appear overly put together. Only a few brands can successfully balance all of these factors.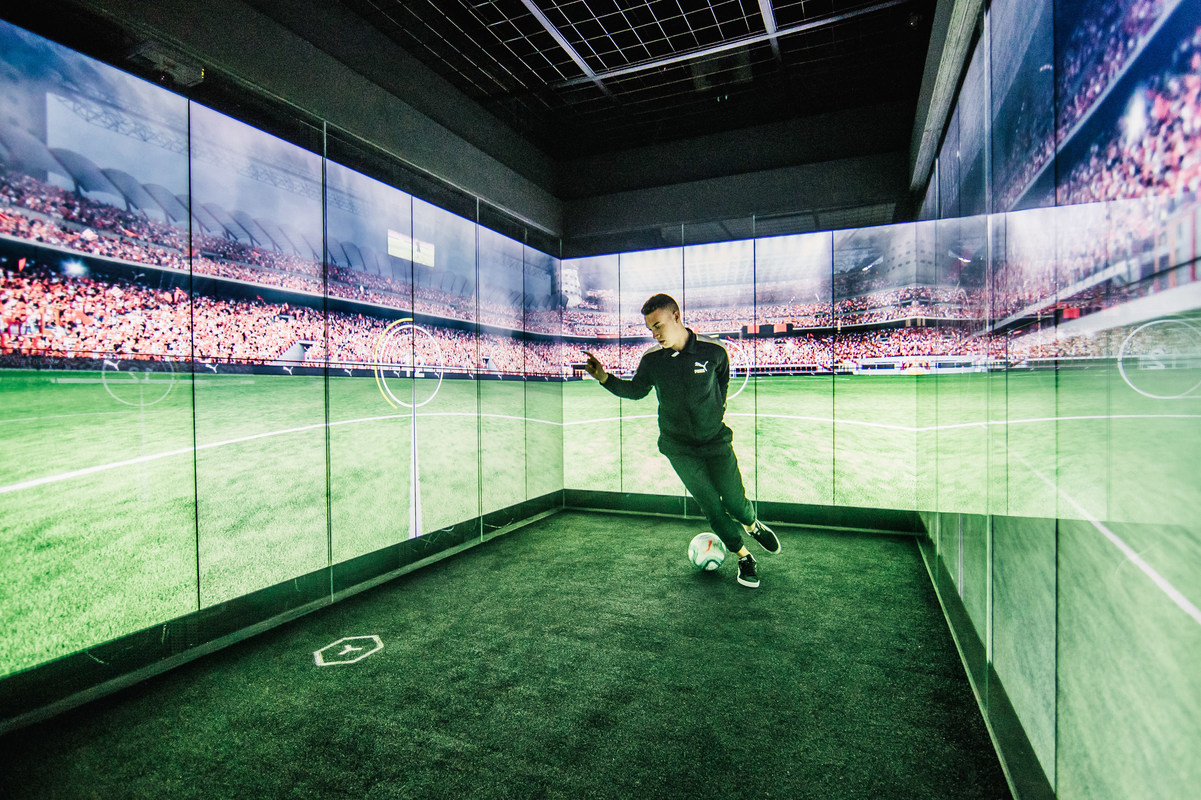 Read more on Archup:
Place Careers: Senior Interior Designer to join Boutique Luxury Design Collective in Knightsbridge
Planning to construct the largest building in the world in NEOM
Exhibit Columbus announces 2022–2023 launch with reimagined curatorial approach and sharpened community focus