Rajiv Gandhi International Stadium is a famous sports venue located in Hyderabad, India.
As one of the most technologically advanced stadiums in the country,
it displays the perfect blend of architectural design and engineering prowess.
The stadium, with a capacity of 39,000, has been specially designed to provide a world-class experience for spectators and players alike.
From its unique and stunning design to its state-of-the-art engineering facilities,
this ultimate guide will provide you with everything you need to know about the Rajiv Gandhi International Stadium.
So, whether you're a sports fan planning to attend an event or you're interested in architectural wonders,
read on to discover the fascinating details of this iconic stadium.
Location and easy access to the stadium
The Rajiv Gandhi International Stadium is conveniently located in Uppal, an eastern suburb of Hyderabad.
It is located a short distance from the city center, and can be easily reached by various means of transportation.
For those traveling by air, the stadium is located about 20 km from Rajiv Gandhi International Airport,
making it a convenient destination for both domestic and international visitors.
From the airport, you can easily hire a taxi or use ride-sharing services to reach the stadium.
If you prefer to travel by train, the nearest railway station is Secunderabad Railway Station,
which is about 16 km away.
From there, you can take a taxi or take advantage of public transportation options such as buses or the metro rail system.
As for those who rely on public transportation, the stadium is well connected to different parts of the city via local buses and trains.
Opal Metro Station, located close to the stadium, provides an efficient way to reach the stadium.
Overall, whether you are a local resident or an out-of-town visitor,
getting to the Rajiv Gandhi International Stadium is convenient and hassle-free.
The strategic location ensures that the stadium is easily accessible,
allowing you to fully enjoy the upcoming sporting events or explore the architectural wonders of this magnificent stadium.
The Rajiv Gandhi International Cricket Stadium, also known as the Uppal Stadium, is a prominent cricket stadium in Hyderabad, Telangana, India. Here's a detailed overview of its features and attributes:
The history of the stadium and its importance
Rajiv Gandhi International Stadium has a rich history and great importance in the world of sports.
Named after former Prime Minister Rajiv Gandhi, this stadium has witnessed many memorable sporting events and hosted many international cricket matches.
Opened in 2004, the stadium quickly gained popularity thanks to its modern facilities and world-class infrastructure.
With a seating capacity of 39,000 spectators, it provides a great viewing experience for spectators and creates a lively atmosphere during matches.
The stadium is not only famous for hosting international cricket matches,
but has also been the venue for various domestic tournaments, including Indian Premier League (IPL) matches.
Many famous cricketers have graced its grounds, leaving behind a legacy of unforgettable moments in the history of the sport.
Moreover, the stadium's unique architectural design, which features a blend of traditional and modern elements, adds to its charm.
The distinctive LED lights that illuminate the stadium during matches create an enchanting sight for everyone who visits.
As a cricket fan or sports fan, a visit to the Rajiv Gandhi International Stadium is not just limited to watching exciting matches;
It is an opportunity to immerse yourself in the rich heritage and legacy of Indian cricket.
Stay tuned for our next blog section, where we'll dive into the ticket options and amenities available at the stadium.
Capacity and space
Seating capacity: The stadium can accommodate about 55,000 spectators.
Land area: It extends over an area of 15-16 acres, and another source states that the entire complex extends over an area of 24 acres.
Design and architecture
Architectural Style: The stadium was designed by Shashi Prabhu and is known for its modern facilities.
TWO-LEVEL ARCHITECTURE: It features a two-tier architecture that ensures an unobstructed view of the court from any seating position.
Roof design: Teflon fiber surfaces are used in the south and north stands to reduce the weight of the roof, and the roof extends as a tension canopy over these stands.
Drainage and orientation of the field: The stadium includes an underground drainage system to effectively manage rainwater, the field is oriented in a north-south direction, and the grass is maintained at a precise level.
Safety and Security: The design includes features for player and spectator safety, player rejuvenation, hospitality spaces, and first-class security arrangements.
It is also equipped for complete evacuation in less than eight minutes in accordance with international security and safety guidelines.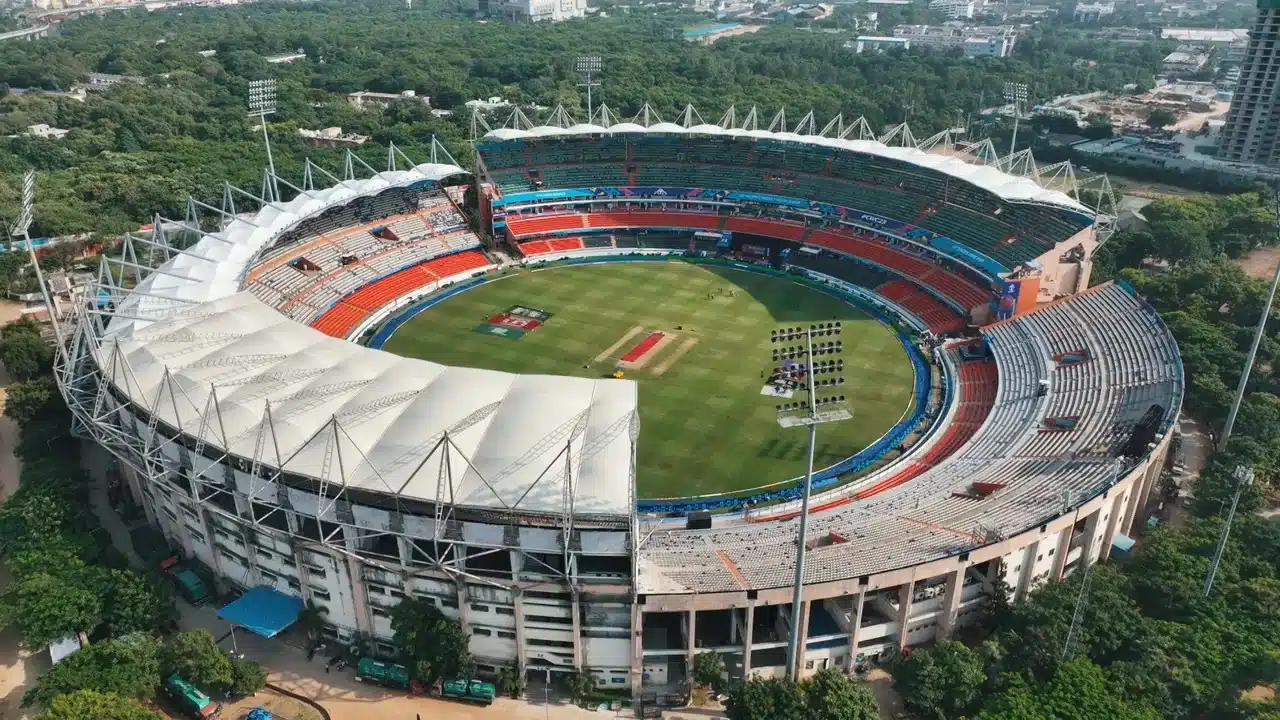 Stadium facilities
The complex includes a cricket pitch, parking for over 550 cars, a swimming pool,
a gymnasium with steam, sauna and jacuzzi, training pitches and entry gates at six locations.
Additional Amenities: There are restaurants, retail spaces, ballrooms, conference rooms, an auditorium and a bowling alley within the stadium complex.
Sports events
Primarily a cricket ground, it is the home ground of the Hyderabad Cricket Team,
the Hyderabad Women's Cricket Team, and the now-defunct IPL teams Sunrisers Hyderabad and Deccan Chargers.
Cricket Matches: The stadium has hosted international cricket matches including Tests, ODIs, T20Is, as well as IPL matches.
Awards and recognition
The Hyderabad Cricket Association, which runs the stadium, won the Best Ground and Stadium award during IPL 2019.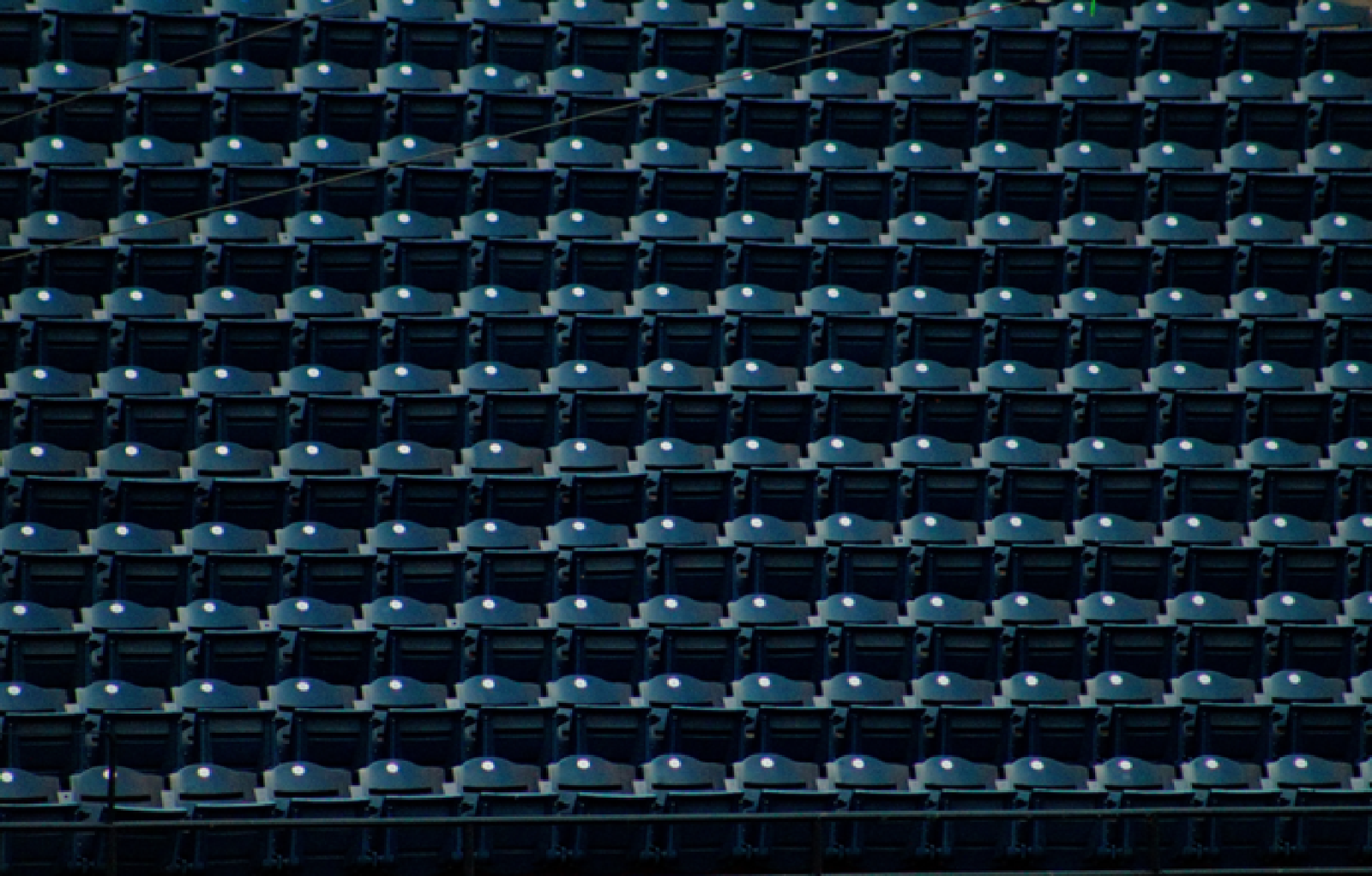 Infrastructure and facilities at the stadium
The Rajiv Gandhi International Stadium is equipped with world-class infrastructure and modern facilities,
ensuring a comfortable and enjoyable experience for all visitors.
Whether you are a die-hard cricket fan or simply looking to enjoy the atmosphere of an exciting sporting event, this stadium has you covered.
One of the stadium's notable features is its 39,000 seating capacity,
which means ample room for spectators to cheer on their favorite teams.
The stadium also offers a mix of seating arrangements, including public stands,
corporate boxes and VIP hospitality, catering to different preferences and budgets.
To enhance the overall experience, the stadium features excellent amenities,
such as clean and well-maintained restrooms, food courts, and a variety of refreshment options.
There are also several souvenir shops where fans can purchase merchandise and memorabilia to commemorate their visit.
Moreover, the stadium has ample parking facilities, ensuring easy entry and exit for visitors.
It is conveniently located near public transportation hubs, making it easily accessible for both local and out-of-town spectators.
In the next section, we will guide you through the different ticket options available for matches held at the Rajiv Gandhi International Stadium,
Plus providing insights on how to make the most of your visit with fascinating stadium tours and behind-the-scenes experiences.
Events and matches held at the Rajiv Gandhi International Stadium
The Rajiv Gandhi International Stadium is not just a venue for cricket matches,
but it also hosts a wide range of other events throughout the year.
From international cricket matches to domestic tournaments,
from concerts to cultural shows, there is something for everyone at this famous stadium.
Cricket fans can look forward to exciting matches featuring the best international teams and star players.
The stadium has been a regular host to both Test matches and one-day internationals,
providing an opportunity for fans to watch world-class cricket matches up close.
Apart from cricket, the stadium has also hosted some of the biggest names in the music industry.
Famous artists and bands shined on the stage, dazzling the audience with their powerful performances.
For those interested in exploring the cultural side of Hyderabad,
the stadium occasionally hosts art exhibitions, dance performances and theatrical performances.
This makes it an ideal destination not only for sports fans, but also for art and culture lovers.
To stay updated with the upcoming events and matches being held at the Rajiv Gandhi International Stadium,
make sure to check out the official website or follow the stadium's social media accounts.
You won't want to miss the range of exciting events this stadium has to offer.
In the next section, we'll dive into the different ticket options available for matches and events held at the Rajiv Gandhi International Stadium, helping you secure your place and plan your visit accordingly.
Construction of eight stadiums for the 2022 Hangzhou Asian Games
Tips for visiting the stadium and watching the match
If you are planning to visit the Rajiv Gandhi International Stadium to watch a cricket match or attend any other event,
here are some tips that can enhance your experience and make your trip more enjoyable.
Here are some indicators to keep in mind:
Arrive early: The stadium tends to get crowded, especially during high-profile matches or popular events.
To ensure you get a good seat and avoid any last-minute rush, you should arrive at the stadium early.
Check the weather: Hyderabad can get very hot during certain seasons,
so make sure you dress appropriately and carry sunscreen, hats and sunglasses to protect yourself from the sun's rays.
On the other hand, during the monsoon season, it is advisable to bring an umbrella or raincoat.
Plan your transportation: The stadium is well connected and easily accessible via various modes of transportation.
However, it is still a good idea to plan your transportation in advance.
Consider using public transportation or carpooling options to avoid the hassle of parking.
Zaha Hadid's company begins plans for Business Central stadium
Follow the playground rules: To ensure everyone's safety and comfort, the playground has certain rules and regulations in place.
Learn about these rules before you arrive, and adhere to them during your visit.
Explore Dining Options: The stadium offers a range of food and beverage options to satisfy your cravings during the match or event.
From local dishes to international cuisine, there's something for everyone, and don't forget to try their famous Hyderabadi biryani!
By keeping these tips in mind, you can make the most of your visit to the Rajiv Gandhi International Stadium.
In the next section, we will discuss the different seating options available in the stadium and help you choose the best one according to your preferences and budget.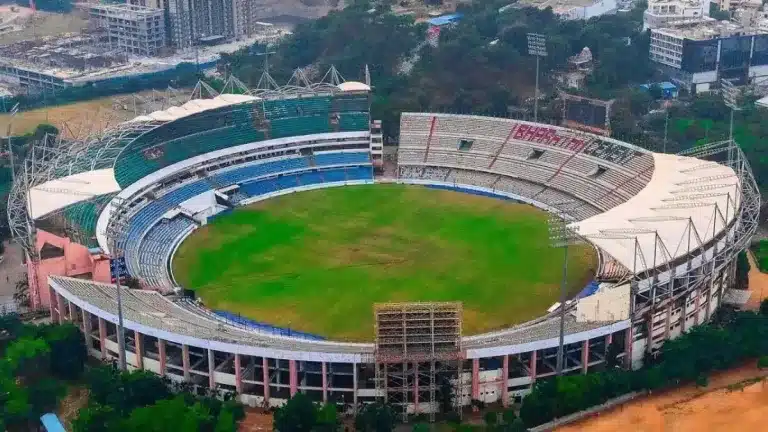 Conclusion and recommendation for a satisfactory playground experience
Concluding our guide to the Rajiv Gandhi International Stadium, we hope you have found the above tips useful in enhancing your experience at the stadium.
By following these pointers, you can ensure a smooth and enjoyable visit.
Now, let's talk about stadium seating options.
Rajiv Gandhi International Stadium offers a variety of seating options that cater to different preferences and budgets.
From regular grandstand seating to premium corporate boxes, there's something to suit everyone.
If you prefer a lively atmosphere and being close to the action, regular seating in the stands is a great option.
You will be among the enthusiastic fans and experience the excitement first-hand.
And if you're looking for a more luxurious experience, consider booking a corporate cabin.
These boxes offer exclusive amenities such as comfortable seating, personalized catering and excellent views of the stadium.
Whichever seating option you choose, be sure to book your tickets in advance, especially for matches or events that are in high demand.
This will ensure you secure the best seats and have an unforgettable time at the stadium.
We hope that our guide has provided you with valuable insights and tips for your visit to the Rajiv Gandhi International Stadium.
Whether you are a cricket fan or attending any other event, we are confident that your experience will be unforgettable.
Enjoy the match or event and have a great time at Rajiv Gandhi International Stadium!
https://archup.net/aarhus-football-stadium-new-year-briefing/