The Sleeping Pods on a Cliff competition is that the third collaboration with the Vale de Moses Yoga retreat, located within the remote forests of central Portugal. Featured by the likes of NatGeo UK Traveller, Forbes Magazine and therefore the Guardian together of the simplest yoga retreats within the world, Vale de Moses regularly welcomes over 500 people from 60+ countries worldwide.
The Vale de Moses Yoga Retreat located within the heart of the Portugal;
For the Sleeping Pods on a Cliff competition, participants are tasked with creating designs for easy sleeping pods that would accommodate a few of guests at a time. Each sleeping pod will got to include a basic sleeping zone also as washing facilities. the situation for the pods are going to be on the mountain rock slopes of the Vale de Moses property that can't be used for food cultivation.
The Vale de Moses Yoga Retreat founders Vonetta and Andrew;
The jury are going to be trying to find projects that have green, sustainable construction and operation at the core of their designs. they're going to got to provide an answer for naturally cleaning the grey water system of the pods in order that they will be wont to irrigate the forest slopes below. While it's expected that designs for the sleeping pod be green and self-sustainable, the jury will favour those designs that really have a positive impact on the environment. The Sleeping Pods on a Cliff competitionis an opportunity to conceive innovative solutions for turning the impact of a person's dwelling from a negative to a positive one. The presence of human habitats could actually benefit the plant and animal life living on the forest slopes with the proper sustainable development.
Participants are being asked to make designs for a sleeping pod that would be replicated in any number of spots throughout the retreat
As the competition winners are going to be suggests for consideration for construction – and therefore the sleeping pods are planned to be located throughout the property – winning designs got to utilise the absolute best eco-friendly practices for both construction and operation.
PRIZES
3 winning proposals, 3 special award recipients and 6 honourable mentions are going to be selected. Bee Breeders will award a complete of 10,000 € in prize to competition winners as follows:
1st Prize – 5,000 €
2nd Prize – 2,000 €
3rd Prize – 1,000 €
"Vale de Moses Favourite" Favourite" Award – 1,000 €
ARCHHIVE Student Award – 500 € + 50 € gift card at ARCHHIVEBOOKS (archhivebooks.com)
Bee Breeders Green Award – 500 €
+ 6 honourable mentions
COMPETITION SCHEDULE
Final Registration: Groundhog Day – APRIL 27
Closing date for registration: APRIL 27, 2021
Closing date for submission: JUNE 1, 2021 (11:59 p.m. GMT)
Announcement of the winners: JULY 13, 2021
More info: sleepingpods.beebreeders.com
JURY:
Jake Heffington, DIVERSIFY ARCHITECTURE
Filipe Rodrigue, Inês Vicente and Marta Frazão, ATELIER DATA
Samuel Gonçalves, SUMMARY
Mikhail Krymov, SLEEPBOX
Ricardo Gomes, KWY.STUDIO
Raulino Silva, RAULINO SILVA ARQUITECTO UNIPESSOAL LDA
Download full competition brief for more information! Competition is hospitable all. No professional qualification is required. Design proposals are often developed individually or by teams (4 team members maximum). Correspondence with organizers must be conducted in English; All information submitted by participants must be in English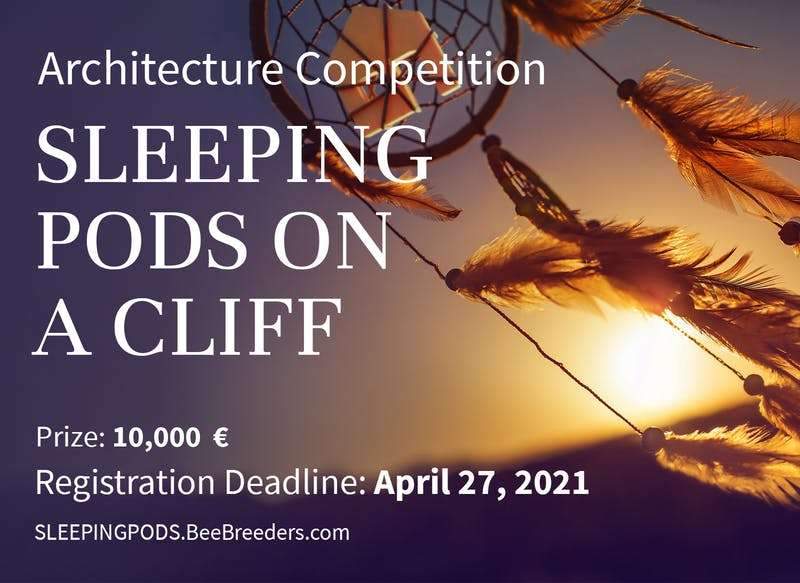 Closing date for registration: APRIL 27, 2021
Closing date for submission: JUNE 1, 2021 (11:59 p.m. GMT)
Announcement of the winners: JULY 13, 2021
More info: sleepingpods.beebreeders.com