The use of biophilic design in the design of a boutique hotel de Bouton,
Vietnamese architectural studio D1 attempted to achieve sustainability by returning to
traditional roots when designing hotel de Bouton in Da Nang.
Being close to nature makes one happy, while being away from it reduces health and well-being.
That is why man, having lost touch with nature amid the hustle and bustle of urban life,
has become a constantly tired and agitated creature.
Hotels are the places people run to for a short sense of sanctuary in order to recuperate,
and these hotels need to incorporate green spaces first and foremost.
How can one go green, without making the design so messy that it jeopardizes the beauty of the hotel?
This is what the design of hotel de Bouton offers on the busy Tran Dinh Dan Street in Da Nang,
as it is a graceful attempt to achieve sustainability by returning to its traditional roots.
The use of biophilic design in the design of a boutique hotel de Bouton
D1 introduced the idea of ​​a courtyard, pond and mini bonsai, to the hotel's design,
to invite sunlight and green the space, and make it always filled with fresh air, making the occupants feel comfortable in contact with nature.
Inspired by nature, the hotel de Bouton has been built to give a fresh beach feel to the bustling urban area where the building stands.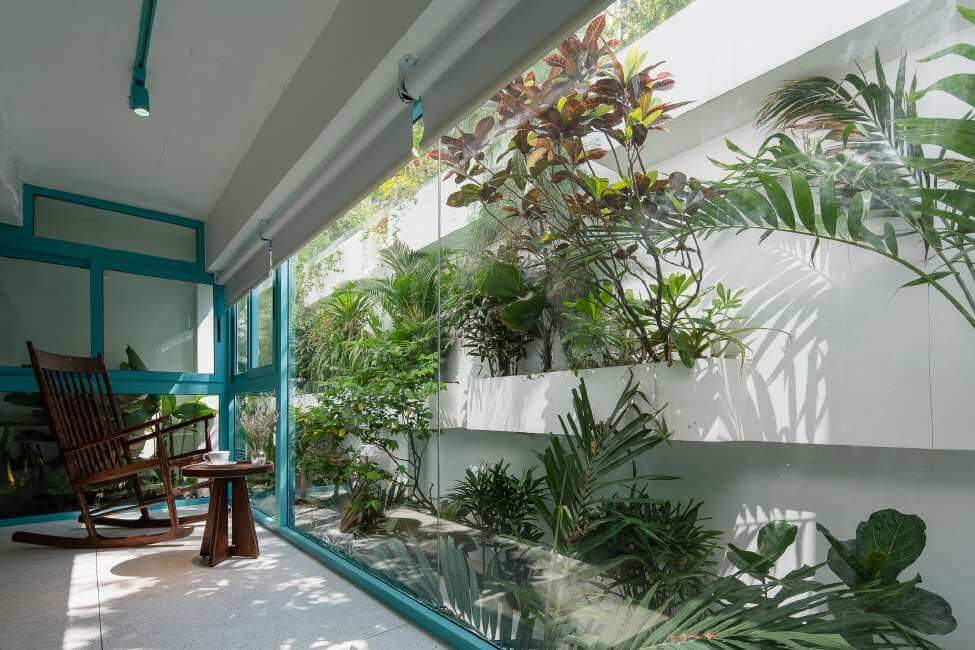 The basement floor, side by side to the rooftop, houses a series of elements that embody the natural beauty of Da Nang,
the sandy garden on the lower level and the dry garden on the balcony.
On the ground floor of the hotel is a cave-style heated mineral pool with a natural stream,
which flows from a steep limestone cliff.
One step to the lake is enough to transform guests into a wonderland full of natural wonders.
Wooden furniture and sharpening stones have been used extensively in the interior design of Boutique Hotel de Bouton,
where the wooden chairs and stone tables made by the artisans of the local crafts village reinforce a sense of a strong connection with the local culture.
The D1 highlighted simplicity, familiarity and comfort through its material and construction choices,
and by working closely with indigenous craftsmen in the design phase.
The nature of Da Nang also poses many challenges for architects due to the landscape
and climate in the central region being particularly hot, rainy and windy during the summer.
D1 has used a highly weather-resistant, cost-effective and environmentally friendly material as the project finish.
A skylight not only expands the view, lets in natural light and circulates air flows,
but also connects spaces.
The green hotel de Bouton contributes to saving energy and protecting the environment while being proud of its natural beauty.