A wall that communicates with people "Pyeonmun"
Byeonmun is a project to redesign the main building of Incheon Metropolitan City Corporation using a perimeter wall. The trees and stairs at the current main entrance of the Incheon Metropolitan City Company, which was built in the 1990s, have been completely demolished and an open theater-like staircase has been created in its place to make it open to the public. To align with the image of smart city driving, the perimeter wall was adopted and designed to symbolize the flow of big data. The non-contact perimeter wall is installed outside the building and is designed to closely interact with the movement of people outside. By installing the motion sensor, the facade moves while recognizing the movement of the person passing in front of the surrounding wall, providing people with a new spatial experience. It is a work that increases the interaction between artwork and people.
See more Lamitex from Decoration Week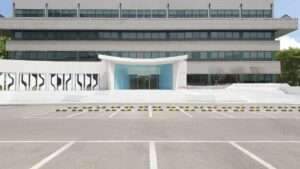 A wall that communicates with people "Pyeonmun"
the design
Eunju-han + soft architecture lab
design manager
Han Eun Joo, Seo Byung Cheol, Park Soo Jin, Ahn Hee-joon
your location
Incheon Metropolitan City Corporation 42, Inju-daero 914beon-gil, Namdong-gu, Incheon
purpose
public business facilities
Land area
6021.2 square meters
Scale
1st word
Height
7.35 m
structure
Steel structure, reinforced concrete structure
outer end
Xcon, base plate
Structural design
SDM Structural Engineer Office
electrical design
Hanyang Electric Power
design period
2020. 5.~9.
Establishment period
2020.10~2021.5.
construction cost
900 million won
owner
Incheon Urban Corporation