OTO Hugging chair is for people with autism
Between 45 and 95 % of people with autism have sensory integration disorders, which means that noise, light, or physical contact can be a real challenge in everyday life, a source of discomfort, or a sensory overload.
Deep pressure therapy has been proven to relieve these effects and help them to focus on their own body, which is what the OTO hugging chair tries to recreate while giving its users a sense of agency and dignity in the process, rather than needing to depend on hugs and compressions from other people.
To design "non-stigmatizing therapeutic furniture", I worked with my users and focus on their needs and daily habits.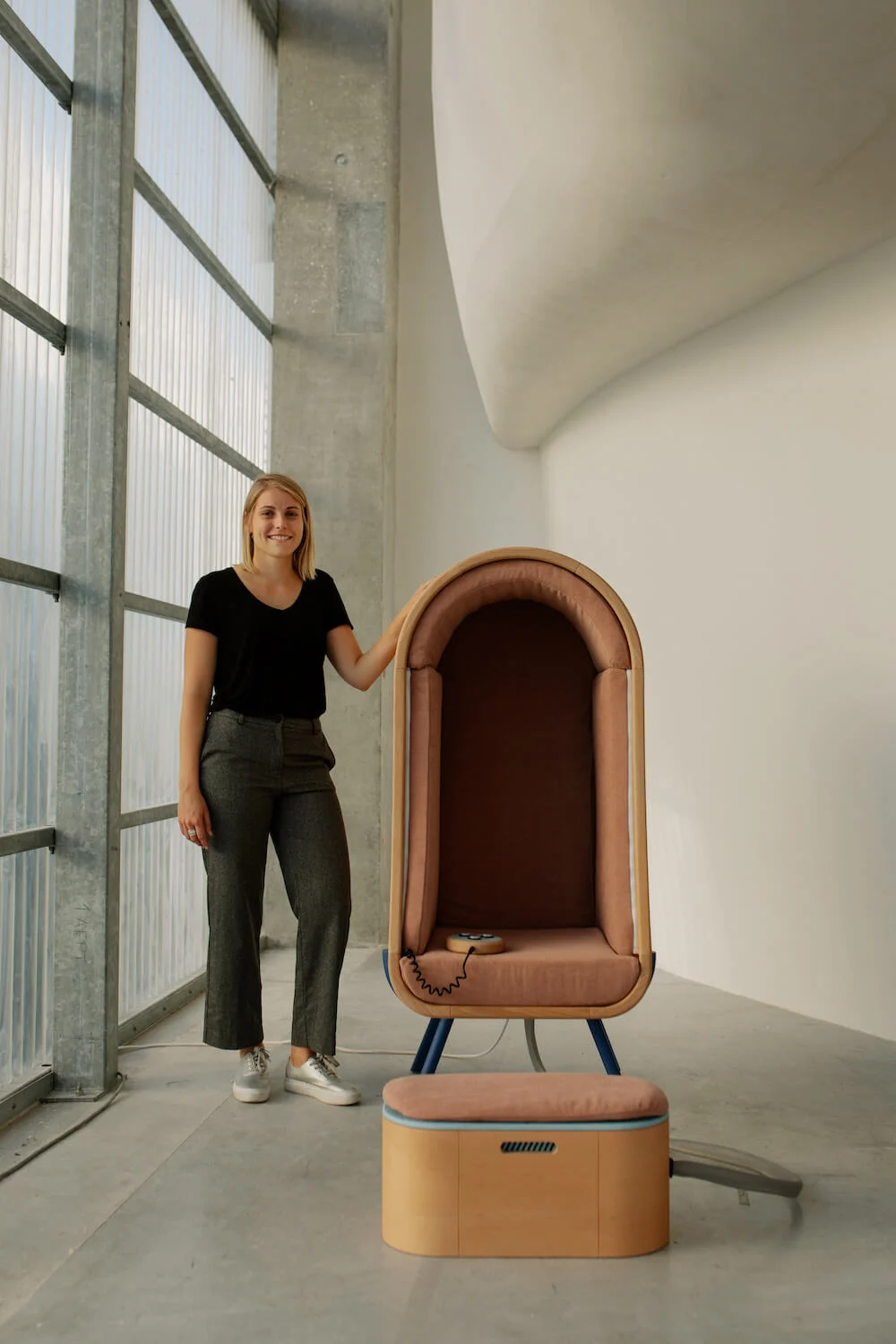 First, understand their daily life needs, test/improve the prototype, and validate the impact or the effect of the chair.
It was important for me to work with people who truly understand the condition. So I spent time with people who have autism, with specialized educators and psychometricians studying sensory processing disorders to understand their needs and their daily life.
When working with my target users I tried to produce functional prototypes as quickly as possible. So I could test them out to make sure the final design met their needs.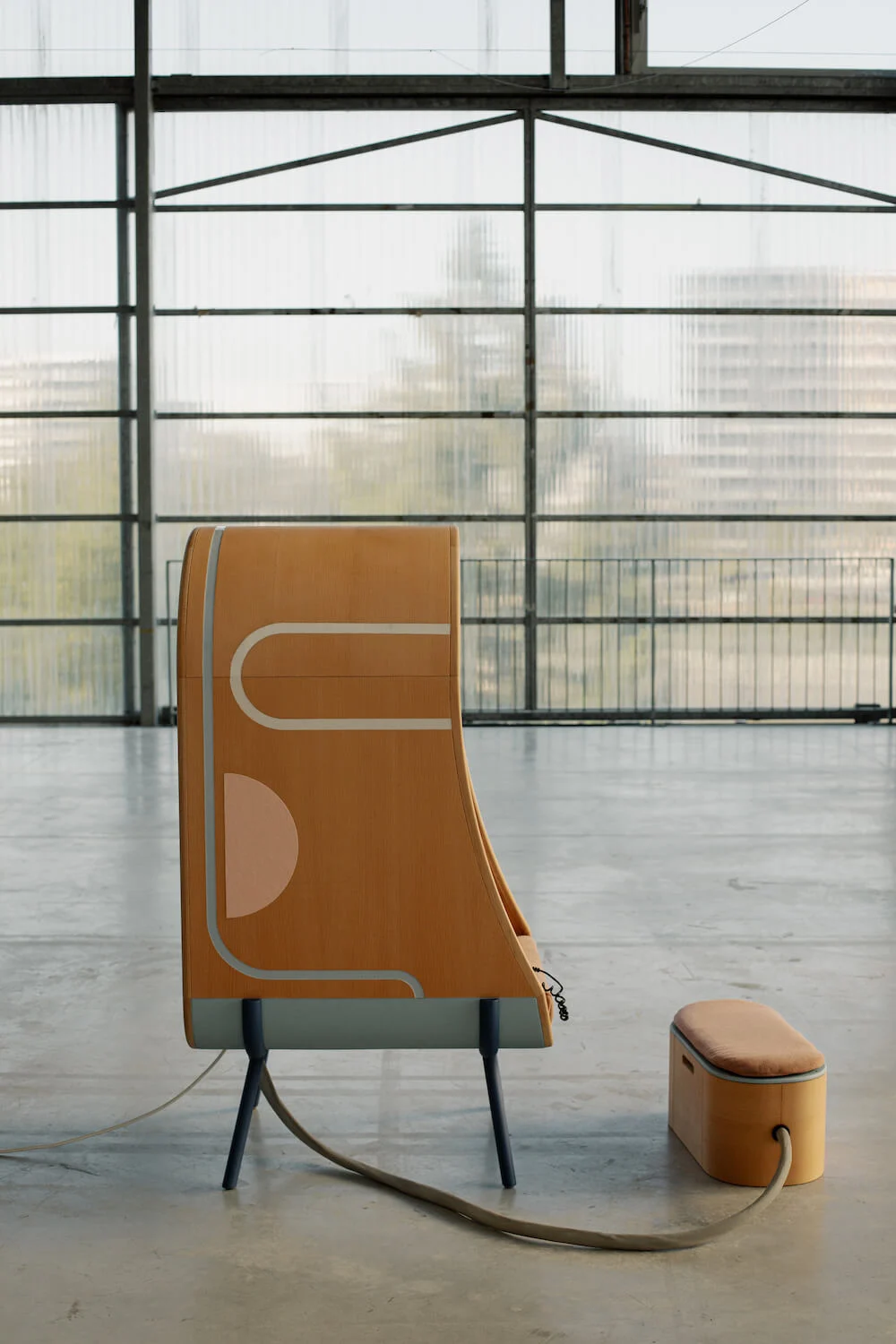 Another valuable input was obtained during a presentation at the Tours Hospital where the medical team was very enthusiastic about the piece.
They even integrated it so we could perform a study on its use and effects as well as define a method to evaluate the impact of the chair.
This saw the chair evolve to improve the user experience and understand what could be an issue for a person with an autism spectrum disorder or for daily use, which was crucial for me to make furniture with a long-lasting impact.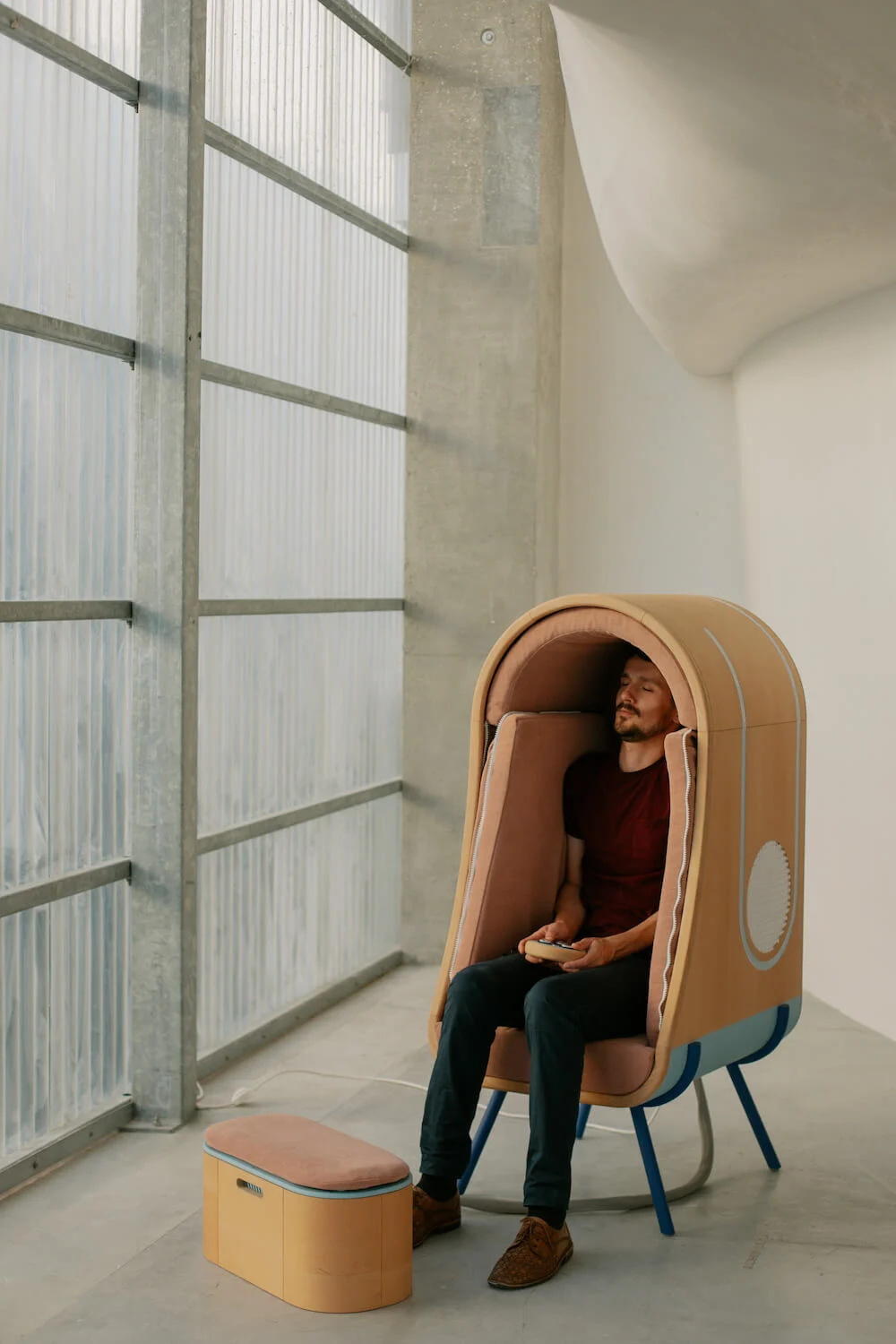 The prototype I built was used to test the hugging functions from which I was able to define the main technical characteristics.
The Oto hugging chair features a cocoon shape, which houses a plush interior padded with sound-absorbing upholstery foam and fabric that helps users to concentrate on their senses and their body while keeping them isolated from other stimuli.
In the first version, there was also a zipper on the cushion.
But for some autistic people, it was too tempting to touch it and play with it. Which would have disturbed the feeling of pressure on their bodies.
Meanwhile, an accompanying footrest blow-up inflatable cells integrated into the side of the chair squeeze the chest and legs of the user at a personalized pressure.
The prototype is mainly constructed of wood, unlike other therapeutic devices or medical furniture that are mostly made from plastic.
This could facilitate the inclusion of autistic people in different public and private environments.
To be more precise, I have used beech as it is a common type of wood in French forests.
From the beginning of this project, I chose to develop it with local companies. Working directly with expert suppliers allowed me to design more pragmatically and therefore more ecologically.
The base of the chair is made strong thanks to its steel construction and all the upholstery is made with high-resistance foam cushion and covered with a soft fabric for the comfort of the skin and washable to respect sanitary constraints.
I combined input from experts with my experience in cabinetmaking, which informed the OTO chair's final aesthetic.
The cocoon shape and the upholstery provide a muffled acoustic, that gives a reassuring effect and a feeling of security.
This helps users concentrate on their senses and their bodies. It keeps them isolated from noise and stimuli to give them a quality moment of calm.
The chair uses a remote control with pictograms that are easy to use and understand.
The user can control the embrace at the chest and leg levels. It's important to me because the hug shouldn't be in a restraint device or as in psychiatric shock treatment.
It was important for the user to remain in control of their own body and to stay in contact with the environment. So that the hug is always a choice.
Since I developed the first model, I have chosen to show the OTO chair to as many people as possible to get different external points of view and define how best to develop this project.
Based on this feedback I am currently working with suppliers and technical partners to adapt the seat. And make it more suitable for large-scale production.
The biggest takeaway I have from this project is the importance of understanding other people's points of view.
As a designer, you have to be in contact with the user, their environment, and their daily habits. And always make tests before reaching a finished product.
The first tests featured noisy pneumatic systems and a chipboard structure. But this allowed me to understand every technicality behind the chair's function.
Based on my experience it is really important to always find the right solution. And match the user's needs with as little equipment as possible.
Finally, Read more on Archup: