Unique eco-friendly kitchen products for a sustainable future
From products including Great Wrap Film to GoneShells, Carbonator 3, Snoot, and Mill Kitchen Bin. Designers across the globe are looking for more eco-friendly ways to package objects and are working to prevent food waste from going to landfills.
Today, bio-based materials are becoming increasingly popular amongst design studios. And brands as consumer awareness around the environmental impact of petroleum-based plastics increases.
Such as – Australian biomaterials company Great Wrap has fabricated a compostable bioplastic alternative to cling film made from waste potatoes and design studio Tomorrow Machine has crafted a biodegradable juice bottle made from a potato starch-based material that can be peeled away like fruit skin and then eaten, composted or dissolved.
There have additionally been innovations in waste disposal. Including the Snoot aroma detector that brilliantly works out the freshness of the food to eliminate waste. And the Mill Kitchen Bin that dries and shrinks food waste so it can be sent off for reuse.
"We looked at what makes up landfills. The single largest inhabitant is food and our kitchens at home are the number one source!" says Tannenbaum, Mill Founder.
What's worse is that when food ends up in a landfill. Not only do we waste all the nutrients and resources that went into growing and getting it to your plate. It releases methane.
Methane accounts for about 20 percent of global greenhouse gas emissions but because of its potency, it's estimated to trap approximately 86 times more heat in the atmosphere than an equivalent amount of carbon dioxide on a 20-year timescale!
1. Great Wrap Film
Made from waste potatoes, Australian biomaterials company Great Wrap skillfully creates a compostable bioplastic alternative to cling film.
This Great Wrap Film consists of starch extracted from potato peels mixed with other ingredients from used cooking oil to a starchy root vegetable called cassava.
At first, the starch is extracted from the waste and then plasticized with a bio-based product.
To be suitable for the stretch film – the thermoplastic starch (TPS) is compounded with used cooking oil, cassava, and biopolymer additives to change the polymer structure.
Then, the compounded pellets are heated to melting temperature and a stretch film is extruded.
To be utilized to wrap boxes and keep food fresh, much like traditional plastic cling film. Biopolymer additives are necessary to change the polymer structure and make the material stretchy.
Additionally, it's transparent packaging which comes in colorful recycled-plastic dispensers has similar textural and performance to petroleum-based plastic cling film.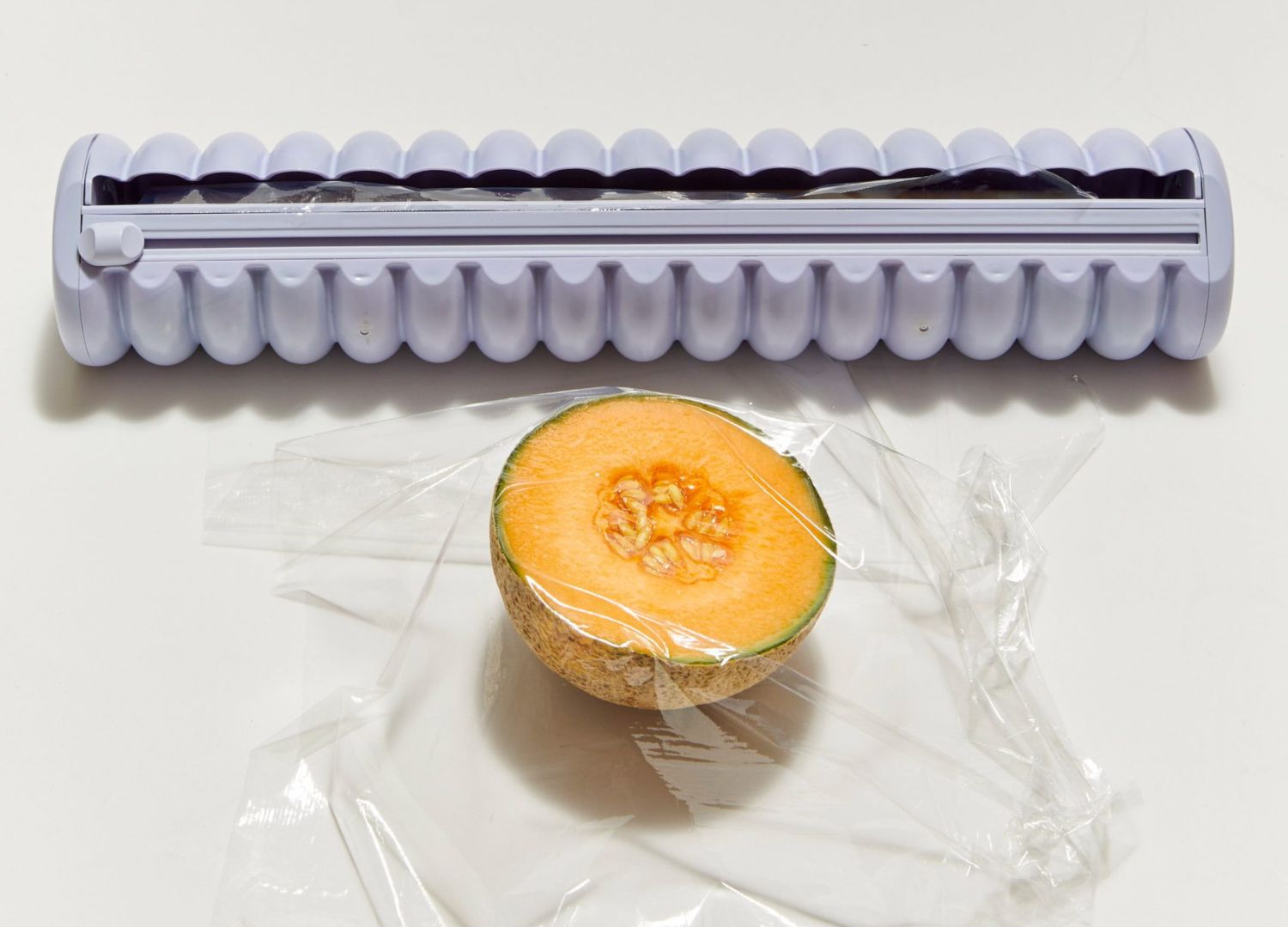 When the Great Wrap Film reaches the end of its life – it can be composted in landfills or home composting systems, where tests have certified it will break down within 180 days.
"Great Wrap Film breaks down the same way as food scraps, into food and energy for the microbes in your compost and it goes perfectly with your organic waste to be composted into rich nutrient soil, ready to be repurposed!" says Julia Kay, Great Wrap Co-founder, and Co-CEO.
2. GoneShells by Tomorrow Machine
Design studio Tomorrow Machine fabricates GoneShells – a biodegradable juice bottle made from a potato starch-based material that can be peeled away like fruit skin and then eaten, composted, or dissolved.
It's currently a prototype that's still being developed by the studio in collaboration with global company Eckes Granini for its juice brand Brämhults.
"We wanted a name that symbolized a natural way to protect food, similar to fruit peel or eggshells – 'Gone' connects to the unique invention behind the material with its multiple ways to make the packaging disappear after usage!" says Anna Glansén, Tomorrow Machine Founder.
GoneShells can be manufactured using existing equipment designed to process fossil fuel-based thermoplastics.
Curved in shape, this bottle is created from a potato starch-based material and coated in a bio-based, water-resistant barrier on both its insides and outsides to preserve the juice it holds.
Once the juice is finished, the bottle can be peeled into a spiral formation a similar way to fruit – which breaks its barrier and immediately begins the material's decomposition process.
After this, the peel can be either eaten or dissolved in water.
3. Re: Mix by Open Funk
Repairable, upgradable, and compatible with glass jars that people already have in their homes. German tech company Open Funk develops a more sustainable version of a food processor.
This Re: Mix by Open Funk blender works with standard canning jars of any shape or volume. Such as those utilized to hold jams and pickles – as long as they have an 82-millimeter twist-off lid.
It's constructed from recycled and recyclable materials with speckled panels of reclaimed waste plastic used to wrap the cuboid base, which holds the motor of the food processor.
Allowing it to be effortlessly disassembled with common tools – the base of this food processor embodies a modular design, is held together without adhesives and its puzzle-like joints have a simplified aesthetic that is sturdy as well as durable.
This gadget further has a separate blade head created to be screwed onto the jar containing the food. This is then slotted on top of the motor and controlled via an aluminum knob mounted on the front.
To extend its lifespan, it's made to be easily repaired and upgraded. Either in Open Funk's Berlin workshop or at home with the help of open-source design plans.
"We've also developed a closed-loop business model for the blender, which will involve buying back and refurbishing used Re:https://designwanted.com/innovative-eco-friendly-kitchen-products-sustainable-future/Mix models!" says Open Funk.
4. Carbonator 3 by Aarke
Aiming to bring a sense of refinement to countertop sparkling water makers. Carbonator 3 by Swedish design company Aarke is a minimalist kitchen gadget that pays homage to Italian espresso machines.
Presenting an alternative to bottled sodas – this soda maker adds fizz to still water via carbon dioxide gas canisters.
Elevating its design and ensuring a long lifespan – they tried to emulate the same sense of heritage associated with traditional espresso machines as well as their use of solid materials.
This gadget was designed "from the inside out" so that form follows function and every part serves a purpose.
The resulting product is compact, with a head that resembles the portafilter of a coffee machine attached to a single stainless steel column.
It features a CNC-machined stainless steel nozzle that's engineered to allow for a "smooth and precise" release of CO2.
Additionally, even the nameplate serves a dual role. Securing the tubing that allows excess water to travel safely through the inner chamber down to the drip tray.
Other details are aimed at improving safety and efficiency such as the rotational damper on the lever. Which allows for a more controlled release of pressure within the bottle and a higher filling line.
"The Carbonator 3 is cordless, needing only standard CO2 gas canisters and no electricity to function. These cylinders carbonate up to 60 liters of water each and can be refilled at specialty stores!" say the Founders, Carl Ljung and Jonas Groth.
5. Snoot by Harriet Almond
Northumbria University graduate Harriet Almond crafts Snoot – a prototype for a detector that can sniff out the gasses released by decaying food and suggest ways to utilize the ingredient depending on its freshness.
"There is a negative perception that as food gets older, it is bad or not as beneficial to us. But that is simply not true!" says Almond.
Reducing unnecessary waste by assuring people that their food is still fit for consumption and educating them about its potential in a fun and approachable way, she hopes to find a way to cut down on the 4.5 million tonnes of edible food that is thrown away in the UK every single year.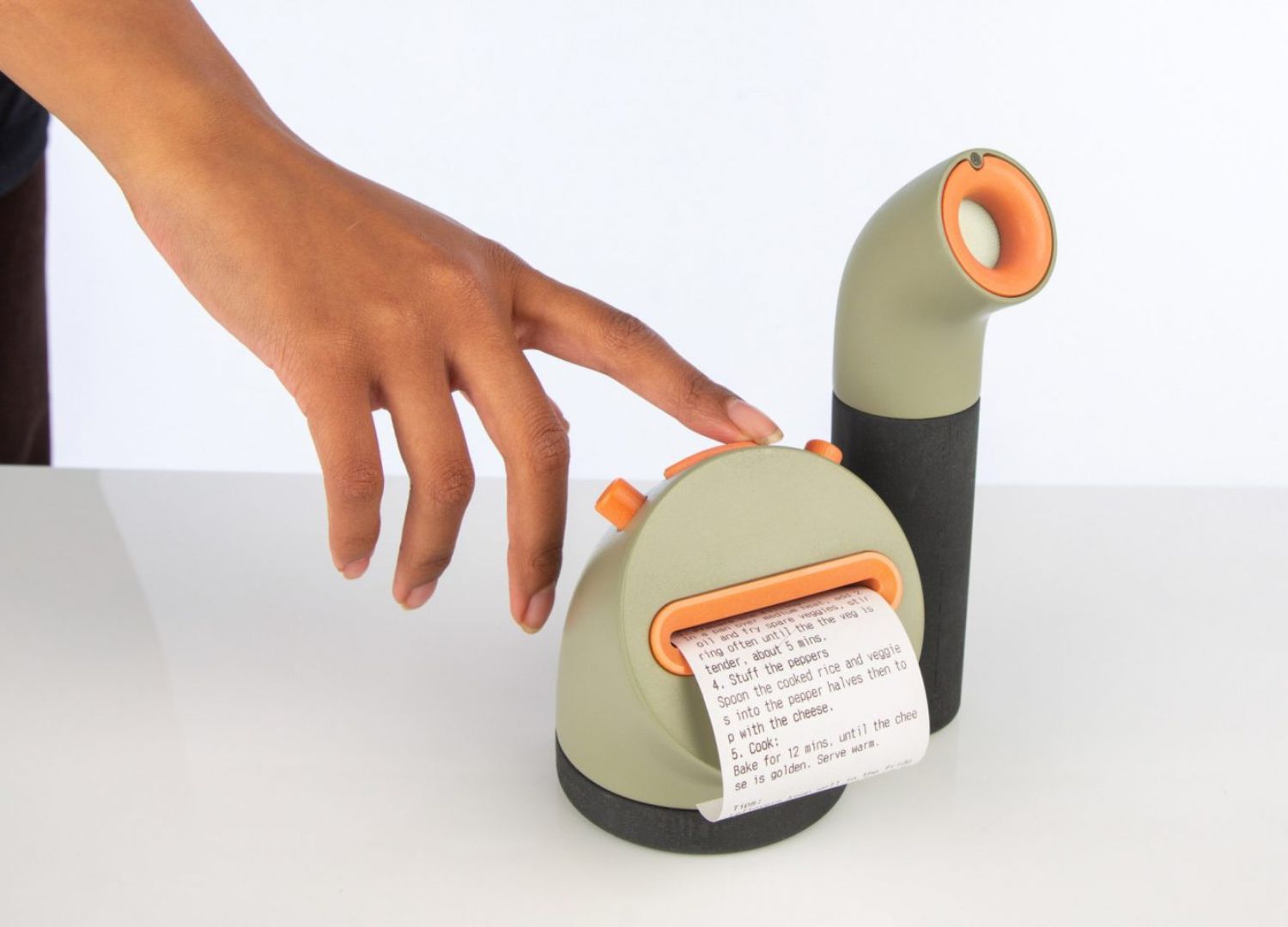 Snoot's playful, zoomorphic design comprises two parts – a handheld sensor resembling a snout and a small mouth-shaped printer that spits out recipe suggestions based on the information gathered by the aroma detector.
Its sensor consists of an off-the-shelf aroma detector as well as a small camera. These work together to collect data about the food and its freshness to then be processed by a single-board Arduino microcontroller.
Almond's current prototype can detect ethylene. The volatile organic compound released by bananas, apples, potatoes,, and a range of other fruits and vegetables as they decay.
"However, future versions of the product could integrate multiple detection modules for different gasses. So that it could be used for all types of food!" she adds.
6. Mill Kitchen Bin
Founded by Matt Rogers and Harry Tannenbaum, US start-up Mill creates the ultimate solution to household food waste. A bin that dries out any leftovers so they can be posted to the company and given a new purpose.
With a minimalistic look, this Mill Kitchen Bin slowly heats and seamlessly mixes any food waste on a low-power cycle to dehydrate and shrink the scraps. Allowing it to be emptied less often.
After a few weeks, when the bin is full, the user taps the resulting "food grounds" into a prepaid box. And schedules a pick-up to have it posted back to Mill as part of a membership-based service.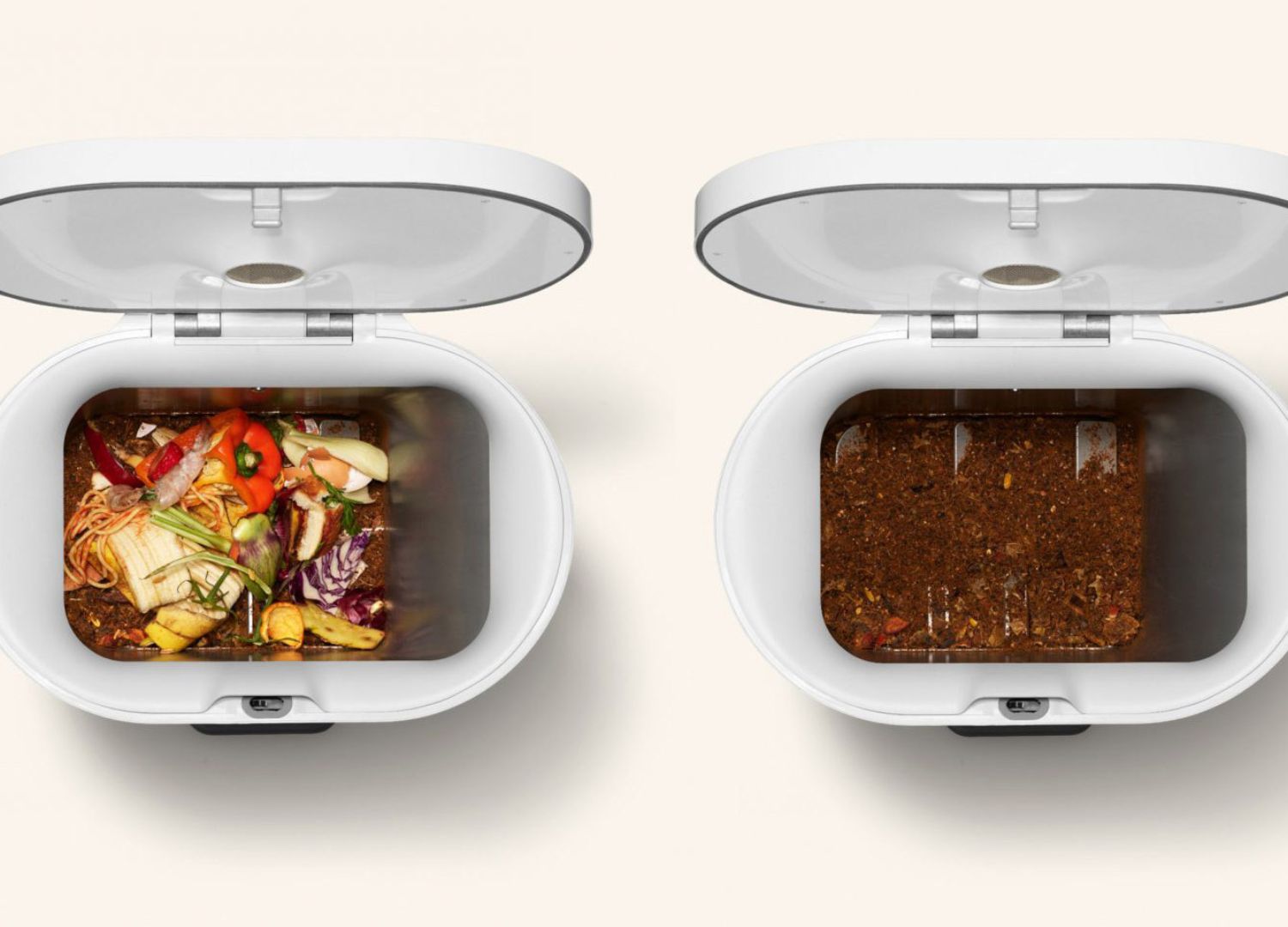 This process presents an alternative to sending food to landfill and composting. Which can require specific conditions or combinations of waste to work effectively.
Mill's goal is to keep leftovers in the food system and reuse them in the most valuable, resource-efficient way.
Additionally, "while the bin is in use – Mill promises that there should be no noticeable smell. Even as the food scraps are heated!" says Tannenbaum.
The evaporating water and air from the bin are pushed through an odor management system that incorporates a charcoal filter before the air is expelled through an exhaust fan at the rear of the bin.
Finally, read more on Archup: