Zaha Hadid, an Iraqi-British architect, designer and painter, is best known for creating some of the most remarkable buildings of the 21st century.
They are architectural masterpieces with gradual and expressive forms that defy gravity and tradition, before her death in 2016.
Hadid began her exploration of spatial intertwining by redesigning her bedrooms, when she was a child in Baghdad.
And that's long before she became the first woman to win the prestigious Pritzker Architecture Prize in 2004.
It was an approach that made no distinction between the design of master plans and buildings and the design of furniture and household objects.
Throughout her career, Hadid has also strived to achieve perfect harmony between the landscape and the outdoor and indoor spaces.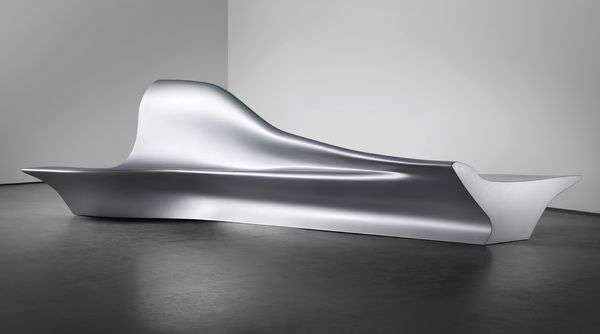 2006 bench design from Design auction in New York
The 2006 seat from Tomorrow's New York Design auction appears to be immobilized,
as if it were being formed by a jet of molten metal, rapidly ejected and shaped by the forces of physics.
Although a household piece, its die-cast aluminum profile derives from the industry's lexicon of materials,
with a smoothly smooth surface and glossy finish that evokes the curves of a high-performance vehicle.
Meanwhile, vital depressions and projections indicate natural places to sit or recline,
but resist reversing the body in a way that prevents multifunctionality.
This deliberate ambiguity cuts the line between furniture and sculpture,
only when it is activated by the sitter that the function of the shape of the seat appears.
The bench was originally designed in 2003 as part of "Ice-Storm",
an experimental interior setup created by Hadid to relive the past at Vienna's für Angewandte Kunst Museum.
The installation of "Ice-Storm" also marked a significant moment for Hadid in fulfilling her architectural aspirations for a fully integrated interior environment,
where furniture and structure merge into one seamless unit.
Hadid found this point in her stylistic development as her transition away from the exploding and fragmented geometric forms in her early years.
Studying architecture at the Architectural Association, working under the supervision of Rem Koolhaas.
Hadid was also gaining a new aesthetic area, by the early periods,
designing buildings and objects shaped by a mathematically studied parametric fluidity.
This would earn her the nickname "Queen of the Curves".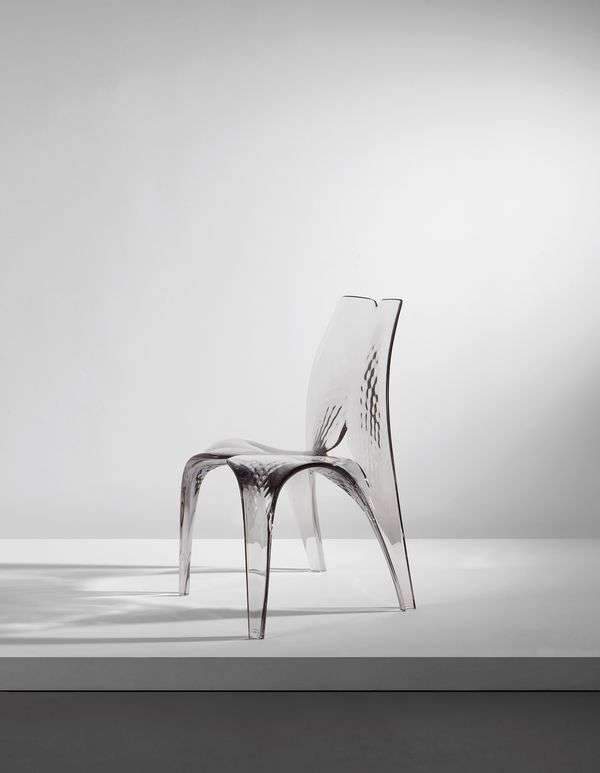 The first project built for Zaha Hadid
Zaha Hadid's first built project was, in fact, designing the interiors and furnishings for a private home in London, which was completed in 1985-86.
Hadid was also already exploring concepts of connectivity in the home space,
with her furniture for this committee.
Its built-in storage unit features a sliding door that can be hidden within the surrounding wall.
The lounge seating surfaces and coffee tables are set in a flowing height, the pieces staggered together, roughly.
The serpentine sofa with a backrest fixed to the wall also suggests a pusher to soften the spatial transition from horizontal to vertical.
These angular designs, jagged, with floating planes and unaltered colors,
may reveal Hadid's influence during her architectural studies and in the early years of her independent practice.
In 1988, the architect's first major internal commission came in 1989,
following its inclusion in the Museum of Modern Art's exhibition, "Deconstructivist Architecture".
Development of Monsoon's restaurant and cabaret
As for Monsoon Restaurant and Nightclub in Sapporo, Japan, Hadid has developed two separate, stacked venues.
They are a lounge and a dining room, using materials and color palettes evoking "fire" and "ice" respectively.
The lounge furniture designs featured removable tables and backrests that modified the configuration and flow of the space and allowed for both dining and rest.
Its asymmetric, veneer-like forms make it almost indistinguishable from the sculptural elements that permeate the architecture of this interior.