Snøhetta designs an artificial island to revive a Norwegian harbor bath,
Norwegian architecture studio Snøhetta designed a man-made listed island to revitalize the 1930s harbor bath in Arendal.
The design was called Knubben, and it includes a clear conception of a distinctive island design.
The island consists of concave and convex walls that form recesses for this project,
and Snøhetta's proposal resembles a block of stone that was formed during the last Ice Age.
The project also consists of integrated forms,
where the smooth concave and convex walls will form its landscape.
The Knubben Pool, was designed by Ketil Ugland and the facility was operated by Arendal Swimming Club for diving competitions,
swimming training and other water activities until 1947.
The building was opened in the 1960s for use as a jazz club with its slender,
symmetrical lines, then the Knubben was designed as a small but elegant example of modernity.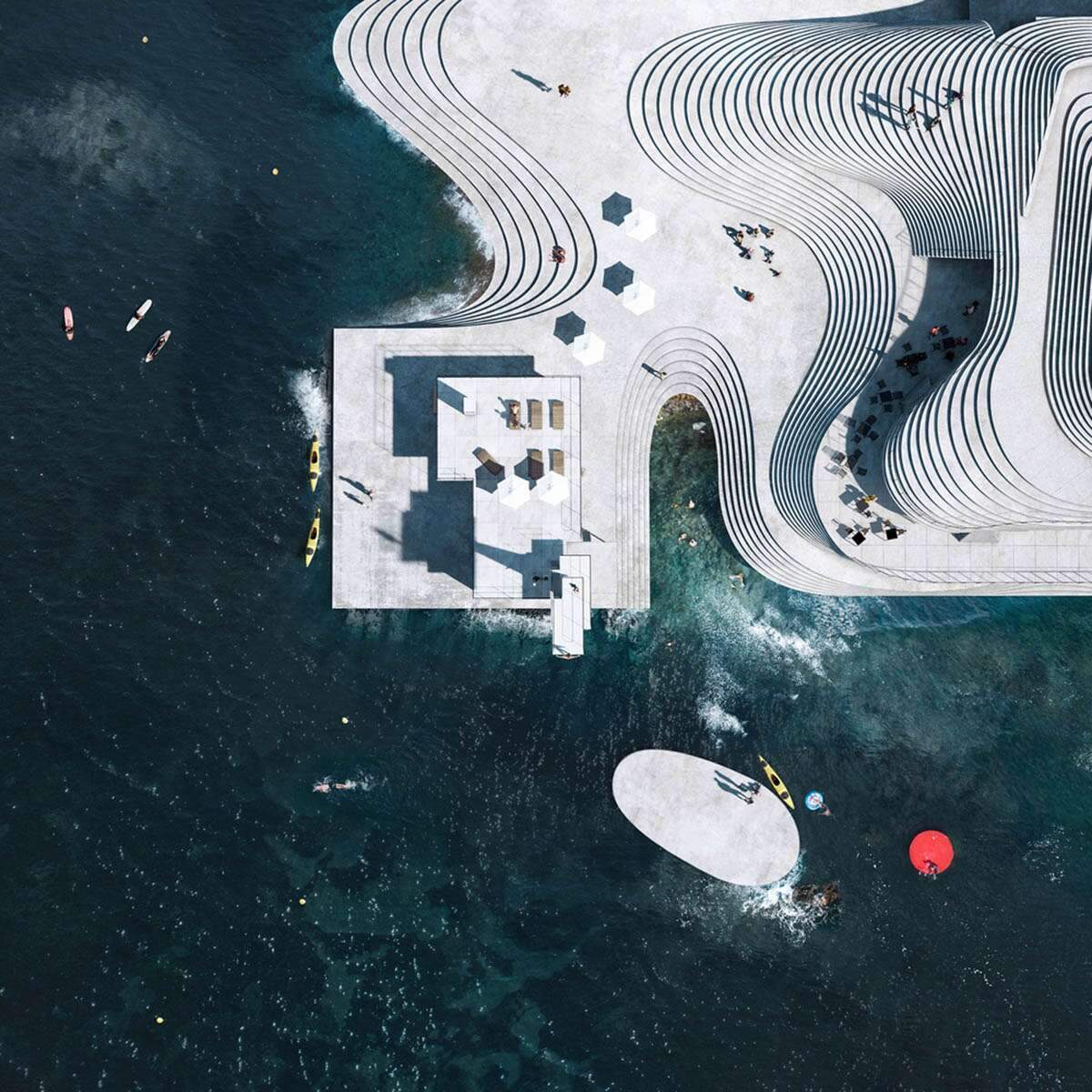 Snøhetta designs an artificial island to revive a Norwegian harbor bath
The historical stages that this building has gone through
Much of the structure fell in the 1980s, being in poor condition and the diving platform demolished during this period.
In 2018, Snøhetta was commissioned to do a feasibility study for a redesign of the facility,
based on the original idea for the structure.
Snøhetta has reinterpreted the new Knubben as an architectural response to the past,
with the goal of preserving the vital parts that will be immortalized.
Snøhetta was to ensure Arendal becomes an urban destination for both national and international audiences.
The basic idea was to design the structure as a renovation project adapted to its original glory.
But nonetheless, Snøhetta wanted to enhance the island's structure capabilities making it a mixed-use site,
dedicated to more than just water activities.
Snøhetta designed a new part of Knubben, which rises as a structure based on steel stilts,
expanding the island's space and possibilities.
Designed as a man-made structure,
it is inspired by the shapes the studio finds on islands and skiing along the Norwegian coast.
The role of architecture in the new design
The architects explained that the new architecture of "Knubben" will represent the terrain as accurately as possible.
The construction will consist of horizontal layers that follow the contour lines of the map.
Snøhetta designs an artificial island to revive a Norwegian harbor bath
Project Features
Knubben will be a lively meeting place that can be used all year round,
can withstand wear and tear as a sturdy sled,
the facility will consist of an outdoor theater along with a sculptural amphitheater.
This will create a venue for all kinds of performances, and the interior,
including a restaurant and more intimate concert spaces, will be added to Knubben.
With an increasing urban population, Snøhetta is looking to connect with nature.
Knubben will become a social place offering a sense of proximity to the sea,
and will also serve as a backdrop for a plethora of activities and experiences.
It would also be a quiet place in the sun on a hot summer evening,
a center for cultural events, and a place to enjoy a good meal after an ice bath on a cold winter's day.
The new Knubben is scheduled to open its doors to the public in 2024.
Architectural practice Snøhetta
Snøhetta is a world-renowned practice of architecture, landscape architecture,
interior architecture, product, graphic design, digital design and art.
Snøhetta has a global presence, with offices stretching from Oslo,
Paris and Innsbruck to New York, Hong Kong, Adelaide and San Francisco.
Always strives to enhance a sense of surroundings, identity,
and relationship with others and physical places.
Museums, produce, reindeer observatories, paintings,
landscapes and dollhouses receive the same care and attention for purpose.
For over 30 years, Snøhetta has designed some of the world's most prominent public and cultural projects.
Snøhetta began her career in 1989 with the competition winning entry to the New Bibliotheca Alexandrina, Egypt,
later followed by the Norwegian National Opera and Ballet Committee in Oslo,
The National September 11 Memorial Museum Pavilion at the World Trade Center in New York City, and many other projects.