Hermès leather workshop design in France using extended arches,
The architectural team of studio LG-A has designed new workshops for French luxury goods manufacturer Hermès,
led by French-Lebanese architect Lina Katmeh.
The studio won the design of the new Hermès workshops in a competition held in 2020.
Design spans much of the landscape, and the great arches perfectly match the central courtyard.
The design aims to create a mixture between it and the landscape in the place,
to become like a poetic poem of the landscape.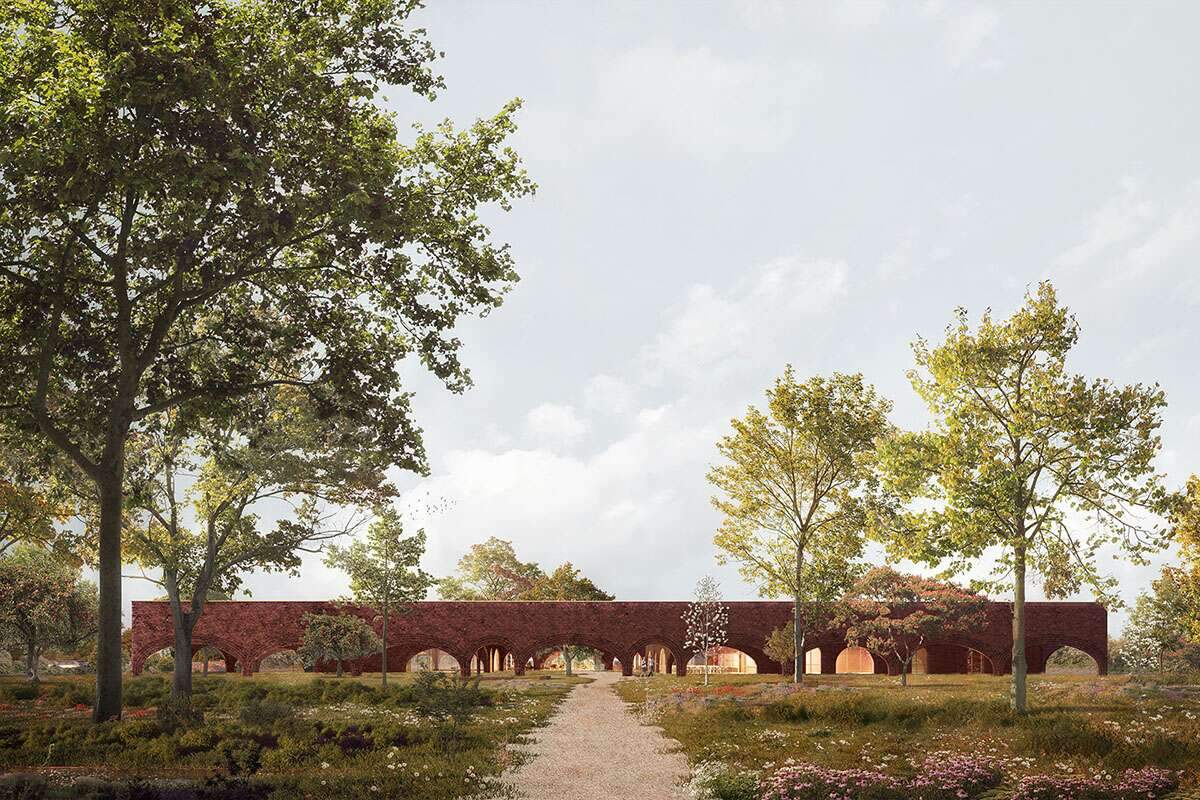 Hermès leather workshop design in France using extended arches
Design Features
The structure of the design features large extended arches, each arch follows the framework of the workshop,
and the design is very delicate.
Hermès leather workshop design in France using extended arches
Nature has been combined with Hermès' basic requirements of craftsmanship in the construction
and location of the future building.
The quality of calculation and measurement provided unambiguous information,
and these two words were the key to the success of the design, as well as the main works that guided the entire design of the new Hermès leather products.
LG-A's architecture stems from meticulous planning of the project site,
the project site has been drawn and integrated into the design, as well as its dimensions, durability,
timelessness and evolutionary ability.
The architecture of this building is distinguished by sobriety, as it merges with the poetics of the landscape,
and the shape of the arch embodies the great leaps, which resemble those of a horse.
The extensions create large windows so that natural light comes in precisely, comfortably and abundantly,
and the ceiling openings align with the north and invoke the museum's lighting meticulously to penetrate the space.
Designed at every stage with respect for the environment and working towards the highest environmental ambitions,
these new workshops have created a fusion between space and landscape, between landscape and environment.
This passive building, called E4C2, is low carbon, where nothing is accidental and where everything is a resource.
Sitting on an orthogonal grid and coordinated by its interior performance, the structure is intended to appear on the ground, meet the ground.
As lighting becomes the main element in the design, leather goods in the hands of the creators are supposed to be illuminated with perfection later,
bringing out life and vitality.
Neighboring nature attracts the new leatherworkers, through the exact site plan and features,
and places them on the most fascinating parts of the site.

Hermès leather workshop design in France using extended arches
LG-A. Studio works
The team of architects at Studio LG-A is working on the construction of the Khloi Hotel, in the vineyards of Lebanon,
and the construction of the National Dance Center for Tours in France.
The Estonian National Museum and the Stone Garden Tower in Beirut are among the major projects undertaken by Studio LG-A.
LG-A studio is headquartered in Paris, France.