Renowned architecture firm Ennead Architects has revealed the design of the new masterplan for the Shanghai Lingang Special District,
which will be a new center for global commerce.
The large-scale masterplan is designed on the central axis formed around
the Dishui Lake District in the heart of Shanghai.
Ennead's new masterplan is set to be built as a distinct identity for the free trade zone and business district
that will attract some of the world's most prominent companies as it facilitates global trade.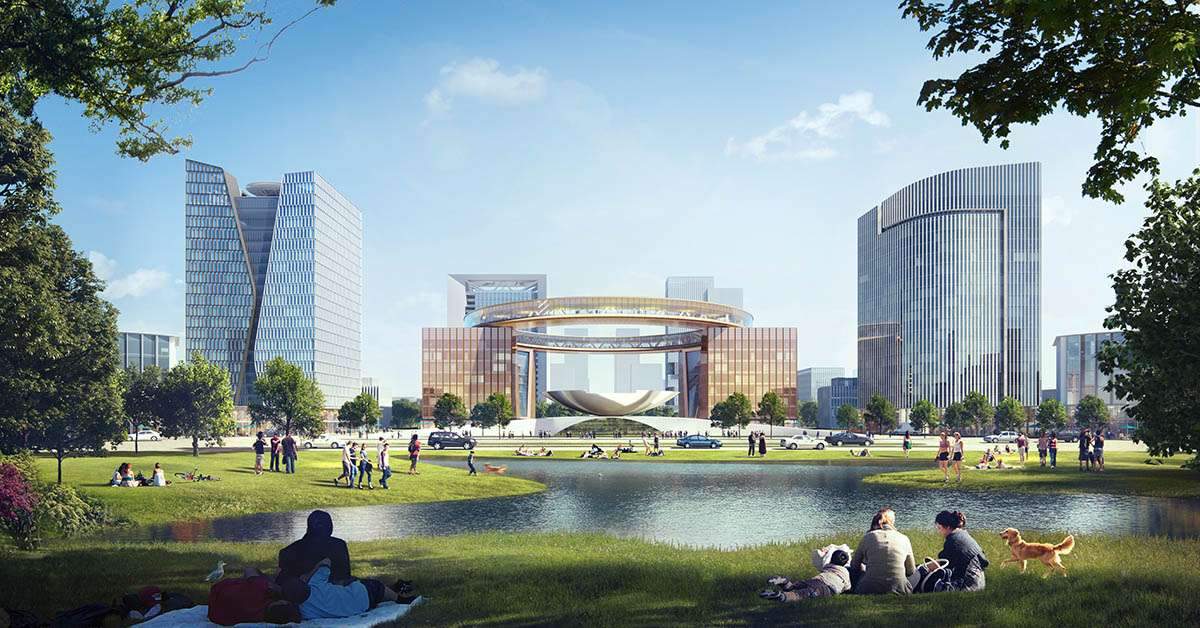 Design Features
The master plan will include four commercial buildings, covering more than 89,000 square meters of retail,
more than 7,500 square meters of civic space, and more than 28,000 square meters of open space.
The site was designed as a free trade zone, and it has a lot of potential in terms of an important commercial, political and civil role.
Its design provides a functional area where multinational companies can improve business operations,
while creating open spaces for surrounding communities to enjoy.
Ennead's masterplan may reflect the desire for beautifully designed buildings combined with civic community spaces,
an integrated and memorable work of urban design, landscape and architecture.
The masterplan for Shanghai Lingang Special District also includes key features, for example,
the practice adds a sophisticated circular cantilever observation deck called The Ring,
which will be a dramatic centerpiece symbolizing prosperity and unity.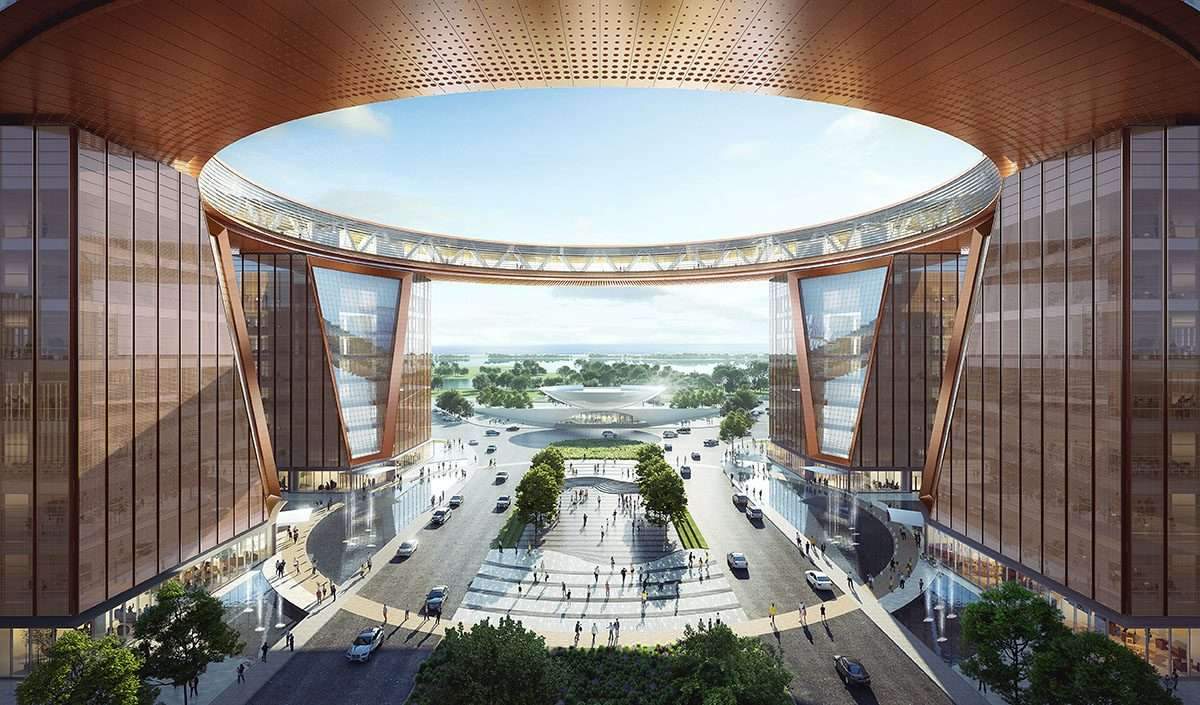 Design shape
An observation deck and cantilevered museum offer 360-degree views of nearby Dishui Lake,
Shanghai and the Pacific Ocean.
Including exhibition spaces supported by four mixed-use towers,
the structure will provide a space for pioneering cultural experiences.
The cantilevered deck combines long, curved spans and features structural glass,
and the circuit was designed in collaboration with structural engineer JAE and facade consultant RFR.
The Ring will also be activated at night, with light shows and events.
The two towers will also provide world-class office space for international companies,
and the two accompanying wings are towers that accommodate companies from all over the world,
cementing the site's position as a link to some of the world's most influential companies.
Designed to deliver unforgettable aesthetics,
the waterfall tower and the particular tower have a series of unifying sub-areas with unique identities.
Such as the variety of civic functions, degrees of density,
and natural and built environments that are incorporated into the design for work and residence.
The four sub-zones include the Free Trade Zone, the Environmental and Technical Centers,
the Mixed-Use Commercial District and the Residential Mixed-Use District.
While the commercial and retail spaces are linked by an array of linear raised parks with native plants,
landscaped footpaths, and a gently curved street of interconnected landscaped buildings called the Financial Crescent,
a unique gathering space unites the entire area.
New masterplan for Lingang Special District revealed
Ennead envisions the masterplan based on principles of sustainability and nature,
for example, landscaped pedestrian spaces and lush rooftop gardens bring office workers and residents closer to nature.
The studio's goal was to transform the site into a "squishy city."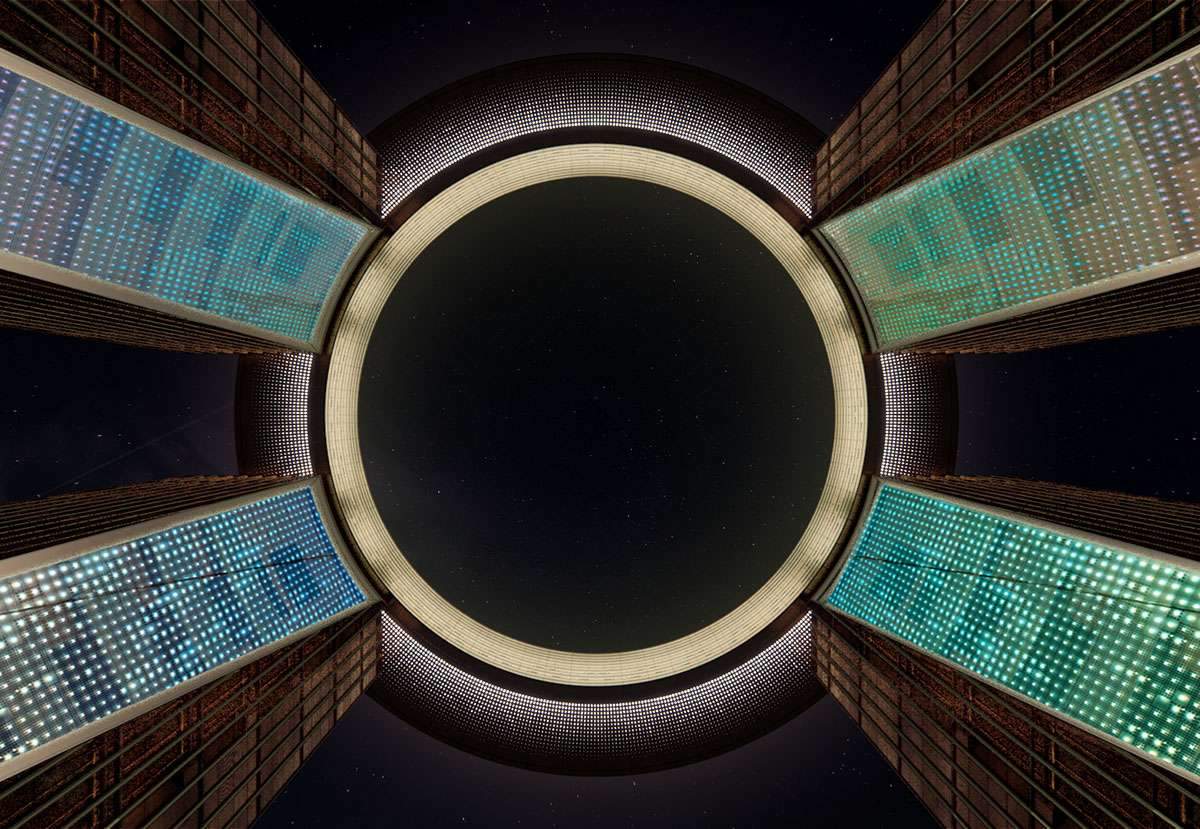 To achieve this, the team is adding abundant green spaces that can play a key role in absorbing excess rainwater.
This helps mitigate any potential damage from storms and floods,
while lowering temperatures and reducing erosion.
AUC College of Engineering students invent self-luminous concrete