Effective aesthetic solutions for acoustic comfort,
Acoustic comfort is affected by the levels and nature of the sound being tested in an indoor space, measured in decibels.
The functionality and aesthetics of work and living spaces are usually the primary focus of a designer.
However, often overlooked, they are factors that contribute to employee productivity or residents' comfort.
Providing a comfortable acoustic environment greatly contributes to the general mood and health of the people working in it.
Kvadrat Acoustics has attempted to meet these challenges by collaborating with architects
and designers to create aesthetically pleasing spaces with perfect sound control, using the characteristics inherent in beautiful textiles.
In this article we will present some solutions applied in 4 interior design projects.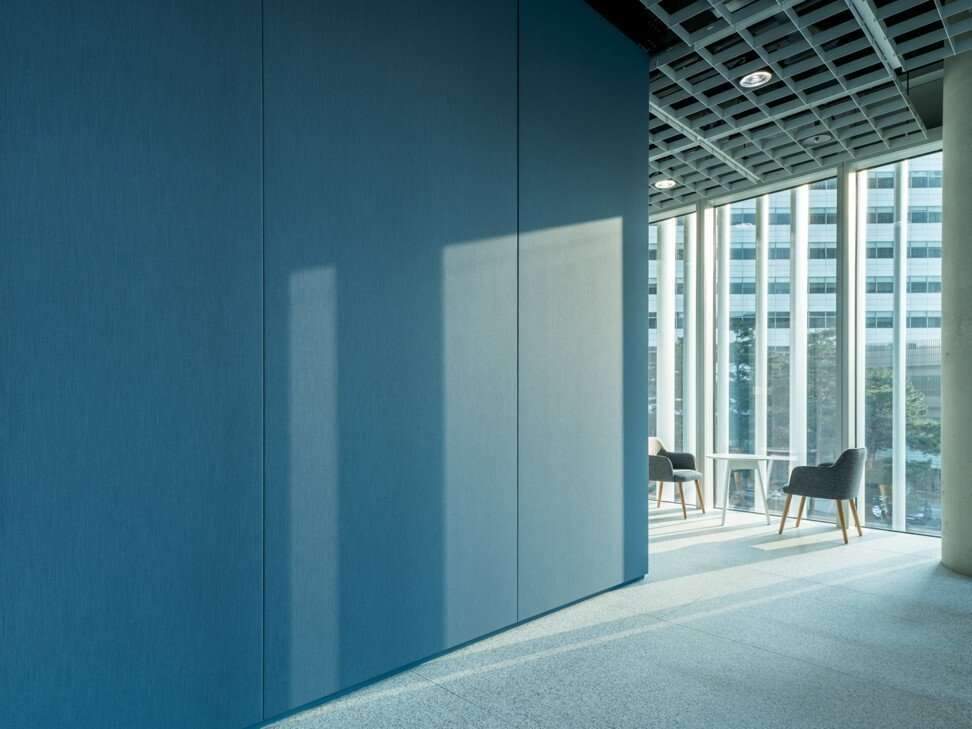 Aedas Architects is based in Singapore
Kvadrat Acoustics installed Soft Cells on walls and ceilings to enhance the acoustic comfort and aesthetic quality of the office interiors and architecture.
The company has worked to support the design concept, which provides a hotel-like setting that facilitates confidential conversations,
while Aedas has collaborated closely with Aedas Architects and Multiline,
to create custom integrated panels for most ceilings in reception and meeting rooms.
The collaboration also focused on ensuring that the lights and suspended panels could be precisely adjusted to the level of the finished ceiling with equal spacing between panels.
Effective aesthetic solutions for acoustic comfort
   2. Underwater Restaurant Designed by Snøhetta
Snøhetta has designed an underwater restaurant called Under,
where the ceiling features acoustic panels from Kvadrat Acoustics, in a variety of different geometries.
The underwater dining area overlooks the marine life.
The concave and flat acoustic panels on the ceiling are unified,
creating an acoustic environment that increases with clarity and consistency,
while colors intertwine from bright red to dark green and blue.
   3. The laser and skin center designed by Reimann Interior & Design
The center is located near Munich and covers an area of ​​680 square metres.
A clinic focused on traditional and aesthetic dermatology,
the designer company has taken skin texture as the core of the design concept.
The hexagonal shape of the skin cells can be found in the wall design,
as well as in the custom-made concrete cubes used in different areas.
Moreover, the concept of color consists of different skin tones.
Asklepios 8 Novartis office tower by Herzog De Meuron architects
Novartis is a global healthcare company,
and the organization's Asklepios 8 office tower was built in collaboration with Herzog De Meuron architects and Novartis' Business Services Unit.
The office tower is located on the Novartis campus,
overlooking the Rhine River in Basel, Switzerland, and its interior design is light and transparent.
It also supports creative collaboration, through the use of writable walls that invite people to visualize and share ideas around.
While acoustic conditions have been optimized to facilitate conversations,
Soft Cells in a variety of colors have also been installed on walls and ceilings to improve sound quality for web conferences and meetings.