Technological developments and the relaxation of construction standards are making it possible to build large-scale buildings in wood. In Switzerland and around the world, projects are multiplying.
In the land of the old chalets, it is not only the tops of the fir trees that rise to the sky. There are also wooden skyscrapers. In Bern, Zurich, Winterthur, Regensdorf (ZH) or Lausanne, a trend is emerging: concrete and steel are being replaced by beech, spruce or fir, even vertically. For a long time, wood was used primarily for small-scale construction. However, for several years now, technological developments and the relaxation of construction standards have made it possible to use this resource for ever taller buildings.
Examples are multiplying, each more ambitious than the last. In Switzerland, the first tall building to be constructed with a hybrid wood and concrete structure is the Suurstoffi 22: a 36-meter, ten-story office complex in Risch-Rotkreuz (ZG), completed in 2018. One of the tallest wood buildings to date comes from the same company, Zug Estates AG: Suurstoffi BF1, a 60-meter, 15-story building on the campus of the Lucerne University of Applied Sciences.
The city of Zug is currently experiencing a new phase in the development of wood in real estate, with a highly visible project, the "Pi", which is accompanied by scientists from the ETH Zurich. With a planned height of 80 meters, this building, which should be built between 2023 and 2024, will overlook a new district behind the railway station. Designed with social diversity in mind, it will house both apartments for sale and low-cost housing for rent.
Read also: Book your vacation on this floating island made of plastic waste
New: an interior frame made of beech wood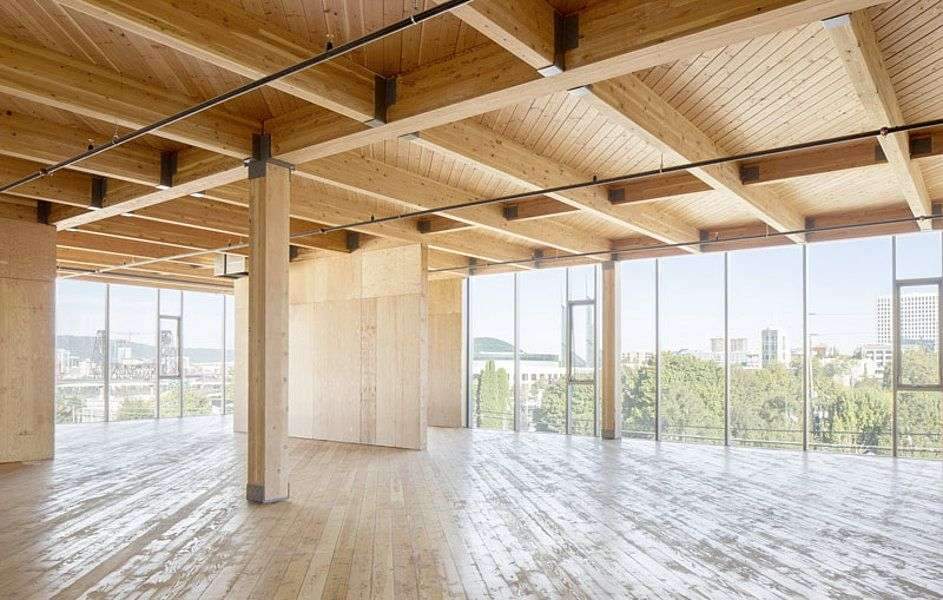 While most wooden buildings have a central structure made of concrete, this one is distinguished by its skeleton, also made of wood. Andrea Frangi, professor at the Institute of Structural Engineering at ETH Zurich, is working on this project for Urban Assets Zug AG: "We will have a classic load-bearing structure for a large building, known as tube-in-tube: on the outside, a frame of vertical columns connected to horizontal beams. And in the center of the building, a second frame composed in the same way. Usually, this construction is made of steel or concrete. For this project, it will be made of beech wood. This is a world first.
The reason for this novelty: advances in construction materials, in particular the further development of glulam technology, and the possibility of using high-performance beams made of beech laminate veneer (LVL). For the Pi project, ETHZ engineers also designed a new type of slab to form the building's floors, consisting of a mixture of wood veneer and concrete. "It's nice to be able to apply the results of our research directly," says Andrea Frangi. That's the other goal of this construction: "To show what we can do with wood."
Reducing CO2 emissions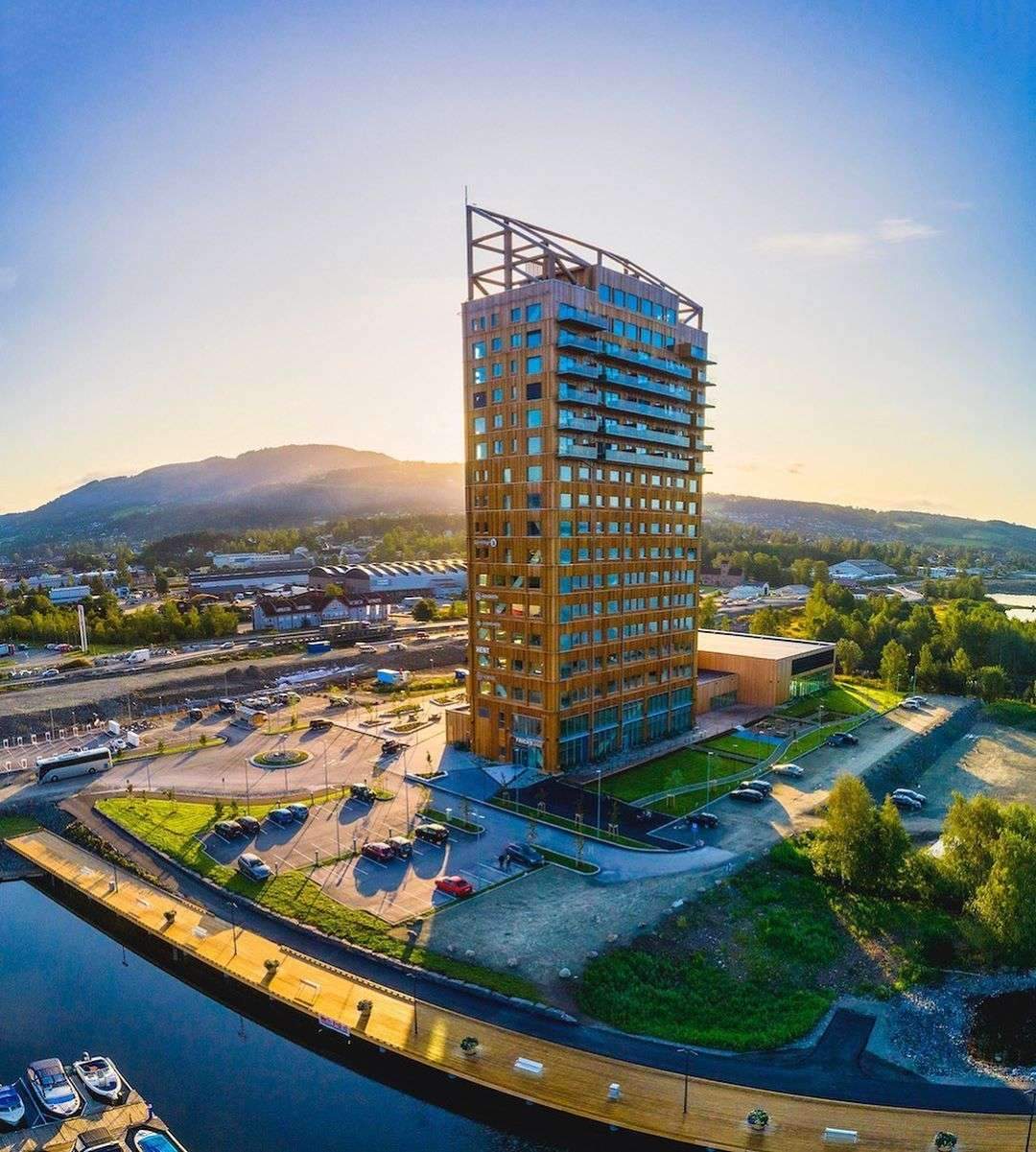 The momentum is worldwide: from Canada to Japan, via Scandinavia, the projects are accumulating superlatives. It's a race to see who can build the tallest and with the most wood. The current record is held by the Mjøstårnet tower: an 18-story, 85.4-meter-high building to be completed in 2019 in Brumunddal, Norway, which just barely edged out the 85-meter-high Hoho building in Vienna the same year. In Tokyo, the wood production company Sumitomo Forestry Group wants to build a 350-meter tower composed of 90% wood and 10% steel, reports the Guardian.
Engineers and architects point to the clear ecological advantages of wood: instead of emitting mass quantities like concrete, wood stores carbon. "One cubic meter of wood can hold up to 1 ton of CO2, as long as it is not burned. Using it for construction extends its CO2 storage function. In a logic of circular economy, when the construction has reached the end of its life – about 50 years – we will continue to use the wood elements, until they are used as combustion material at the end of their life cycle", underlines Andrea Frangi.
Lighter, faster, safer than concrete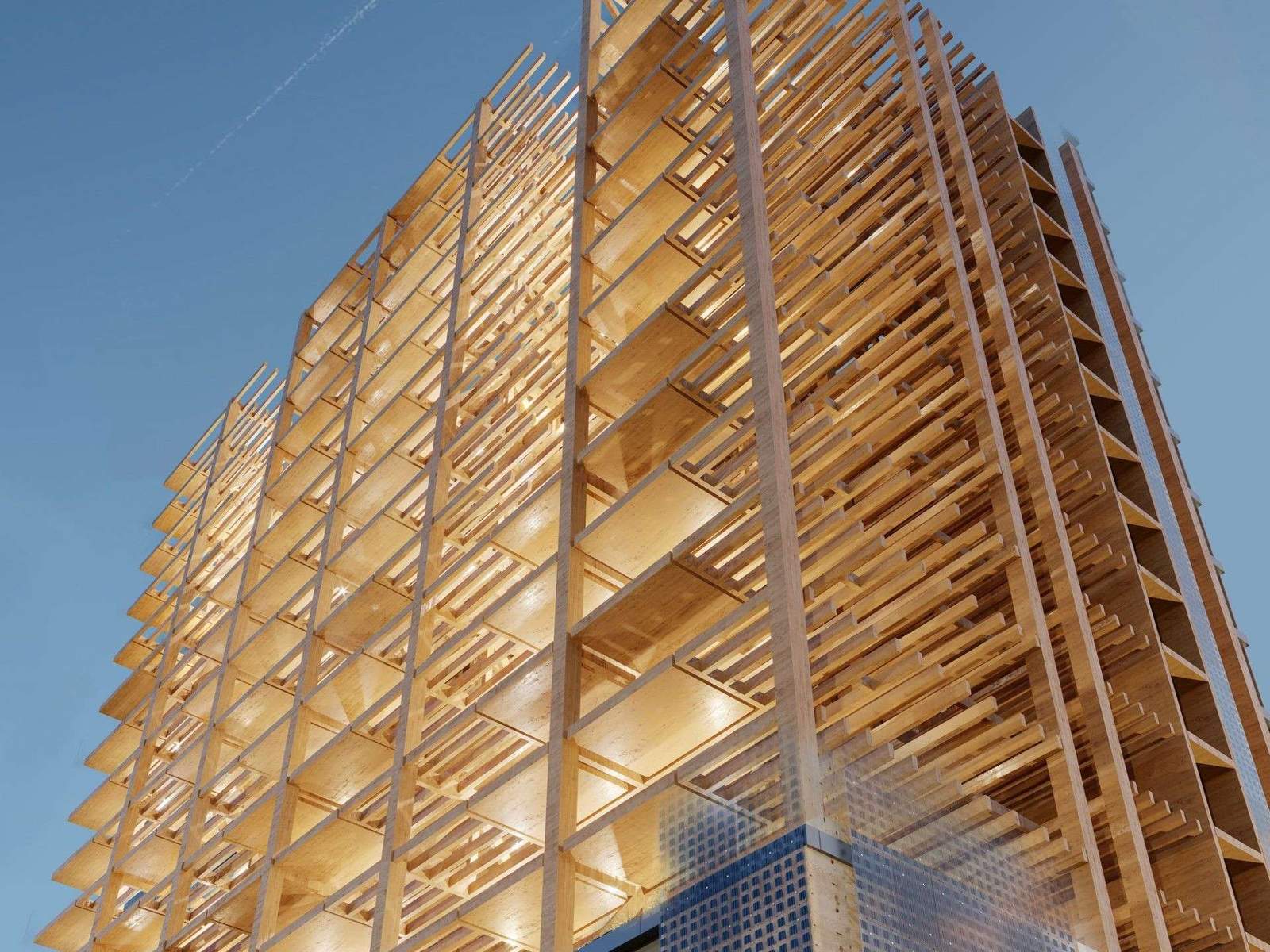 The ecological advantage is one of the reasons given by the architectural firm CCHE Lausanne SA for Malley Phare, a 60-meter wooden tower in Lausanne. Initially, we had planned a steel frame," explains Fabio Leo, the project's head architect. Then we decided to use wood for the load-bearing structure as well, in order to meet, among other things, the energy criteria set by the district's 2000-watt society label, which includes this entire project. The gains in lightness and speed of execution – the elements are manufactured in a factory and then assembled on site – were enough to convince us: to build the structure, it takes four months to build with wood, compared to about seven months with metal and twelve for concrete. So wood was the best solution."
The building will consist of a concrete base made up of three 15-meter high peripheral walls (45%), on which will rest a mixed structure composed of wood (50%) and steel (5%). The raw material – beech, ash and spruce – is local: it comes from the north of Vaud and the forests of the Jura, unlike the steel, which comes from Europe and China. It is processed by the JPF Ducret company, which specializes in the manufacture of prefabricated wooden elements, in particular the production of beams up to 45 meters long from wooden planks. Finally, architect Fabio Leo points out the safety advantage of wood: "Since we are not concreting, we do not need to transport water to the site. And a dry construction site means less risk of water damage."
Read also: Jeddah needs an art museum to be designed and created!
A change in standards
For a long time, building standards did not allow for tall wood buildings. That all changed in 2015 with the revision of fire protection regulations, which no longer included a size limit. Before, for buildings over 30 meters high, it was forbidden to use this resource, considered a flammable material.
The change in the law was also made possible by improved knowledge of how wood constructions burn, Andreas Frangi emphasizes: "The wooden elements we use burn at a rate of 0.7 mm per minute, for very large beams this is not a problem."
If wood is more environmentally friendly, faster, lighter and safer, why isn't it used more in construction? "We have the impression that the concrete industry is afraid of the development of wood. But it's still a niche. We will always need concrete," says Andreas Frangi. If the use of wood were to expand massively in the future, this would raise new ecological challenges: the sustainable management of forests, or the impact of glues used in the assembly of materials.