Alvaro Siza .. Clarity and simplicity in architectural designs is considered one of the most famous modernist architects,
He is Portuguese and works in university teaching at the same university he graduated from, the University of Porto.
Siza's works are known for their clarity and simplicity.
His style was also distinguished by the use of drawing as a practical tool in the preformation of shapes and areas within the process that brings him closer to the desired result.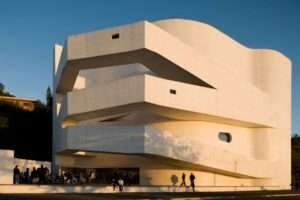 Alvaro Siza .. Clarity and simplicity in architectural designs
Birth and upbringing:
Alvaro Joaquim de Milo Sisa Vieira, better known as Alvaro Sisa, was born in Matosinhos, a small town near Porto (Portugal), on June 25, 1933.
Siza studied architecture at the Faculty of Architecture of the University of Porto from 1949 to 1955,
Where he was educated by the architect and university professor "Fernando Tavora", the Portuguese nationality.
He completed his first architectural projects in 1954, before completing his university studies.
His project was (Four Houses in Matosinhos).
Siza worked as a professor at the School of Architecture at the University of Porto,
In the same city where he is still active in architecture.
practical life:
Architect Álvaro Siza completed his first architectural project about a year before his graduation.
He opened his own architecture office in Porto, Portugal.
Then overnight he became one of the important references in the Faculty of Architecture of the University of Porto alongside his professor "Fernando Tavora".
Siza also worked with Tavora between 1955 and 1958,
He also collaborated with "Eduardo Souto de Moura" in some of the main wings in Portugal,
Such as "Expo '98 in Lisbon and Expo 2000 in Hanover, also at Serpentine Pavillon 2005".
Academic degrees:
The architect "Alvaro Siza" was a member of the American Academy of Arts and Sciences,
He is also an honorary fellow of the Royal Institute of British Architects.
Also the Association of German Architects, the American Institute of Architects, the Academy of Architecture in France,
European Academy of Sciences and Arts, Royal Swedish Academy of Fine Arts and International Academy of Architecture
Alvaro Siza .. Clarity and simplicity in architectural designs
He is also an honorary member of the Portuguese Architects and the American Academy of Arts and Letters.
Siza taught at the School of Architecture at the University of Porto from 1966 to 1969.
Then he returned to teaching it again in 1976.
He has also worked as a visiting professor at Harvard School of Design,
University of Pennsylvania, and University of Los Andes in Bogota.
and the Federal Institute of Technology in Lausanne.
Architect Alvaro Siza has been awarded an honorary doctorate by several universities,
These include: the Polytechnic University of Valencia, the University of Palermo,
the University of Menendez Pelayo in Santander, and the University of Coimbra.
Alvaro Siza .. Clarity and simplicity in architectural designs
In addition to the universities: École Polytechnique Fédérale de Lausanne, Universidad Nacional de Ingeniería in Lima, Peru, Lusíada University of Porto,
and the Federal University of Paraíba, Università degli Studi di Napoli Federico II,
Polo delle Scienze e delle Tecnologie in Naples, and the University of Architecture and Urbanism in Bucharest.
Also, the architect Alvaro Siza received honorary doctorates from the Romanian "Ion Minco" Association (2005) and the University of Pavia in Italy (2007).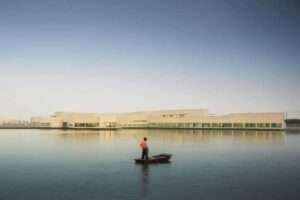 The most important works of the architect "Alvaro Sisa":
1.Four houses in Matosinhos, Porto, Portugal, in 1954.
2.In the 1960s he created the complex of public swimming pools (called
Piscinas de Marés
) for Leça da Palmeira, a fishing town and summer resort north of Porto.
Two swimming pools were completed in 1966, one for children and one for adults.
In addition to a building with changing rooms and a café in the natural rock formation on site, with direct sea views.
3.In 1977 the city government of Évora commissioned Siza to plan a housing project in the city's rural suburbs.
This project was to be one of the projects to be built for SAAL (Serviço de Apoio Ambulatório Local), the national housing association.
The project consisted of 1200 low-cost housing units.
Some of them are one-storey and some of the houses are two-storey, and all units have courtyards.
4.Between 1995 and 2009, Siza worked at an architectural museum on Hombroich Island,
completed in collaboration with Rudolf Finsterwalder.
5.In 2014, Alvaro Siza and Carlos Castanheira designed a building on the water in Jiangsu, China,
and was awarded for it in 2015 by ArchDaily.
6.In 2019, Álvaro Siza was commissioned for his first project in the United States, a 450-foot-tall,
37-story apartment building at 611 West 56th Street in Manhattan.
7.In 2020, Alvaro Siza designed four buildings in a row: Siza House,
YuChia House, Tea House and Gate House in Changhua, Taiwan.
The most important architectural awards received by Alvaro Siza:
1.He was awarded a Pritzker Prize for the renovation project he coordinated in the Chiado district of Lisbon,
a historic commercial strip completely destroyed by fire in August 1988.
2.Gold Medal of the Supreme Council of Architecture at the College of Architects of Madrid in 1988.
3.Mies van der Rohe European Architecture.
4.Prince of Wales in Urban Design from Harvard University.
5.Alvar Aalto Medal in 1988.
6.Portugal National Architecture Prize 1993.
7.Arnold W. Brunner Memorial of the American Academy of Arts and Letters and Praemium Imper
8.Wolf Prize in the Arts in 2001.
9.French Grand Prix 2005.
10.Honored by the Venice Architecture Biennale, he was awarded the 2002 Golden Lion.
11.In 2007 the Brazilian government awarded him the Order of Cultural Merit.
12.He was awarded the 2009 RIBA Royal Gold Medal and the Gold Medal by the International Union of Architects in 2011.
13.Golden Lion Award at the Venice Biennale of Architecture (13th edition in 2012).
14.In 2019 he was awarded the National Architecture of Spain, for being the first non-Spanish architect to receive it in the last 90 years.
Civil honors awarded to architect Alvaro Siza:
1.Senior Officer of the Order of Saint James of the Military Sword in Portugal on the 9th of June 1992
2.Grand Cross of the Order of Prince Henry of Portugal, 9th July 1999.
In July 2014, Architect Siza announced his decision to donate the bulk of his architectural archive to the Canadian Center for Architecture (CCA) in Quebec, Montreal, Canada.
To be available alongside the work of other modern and contemporary architects,
Also giving project-specific archives to the Gulbenkian Foundation in Lisbon and the Serralves Foundation in Porto, Portugal.
The architect "Alvaro Siza" has proven that his interaction with the medical make his architecture an influential thing,
as he has a unique and wonderful way of designing architecture.
His extensive knowledge of modernist architects has influenced his designs on many projects.